Dr. Kenneth Coale, MLML
Moss Landing Marine Labs Seminar series - January 26, 2017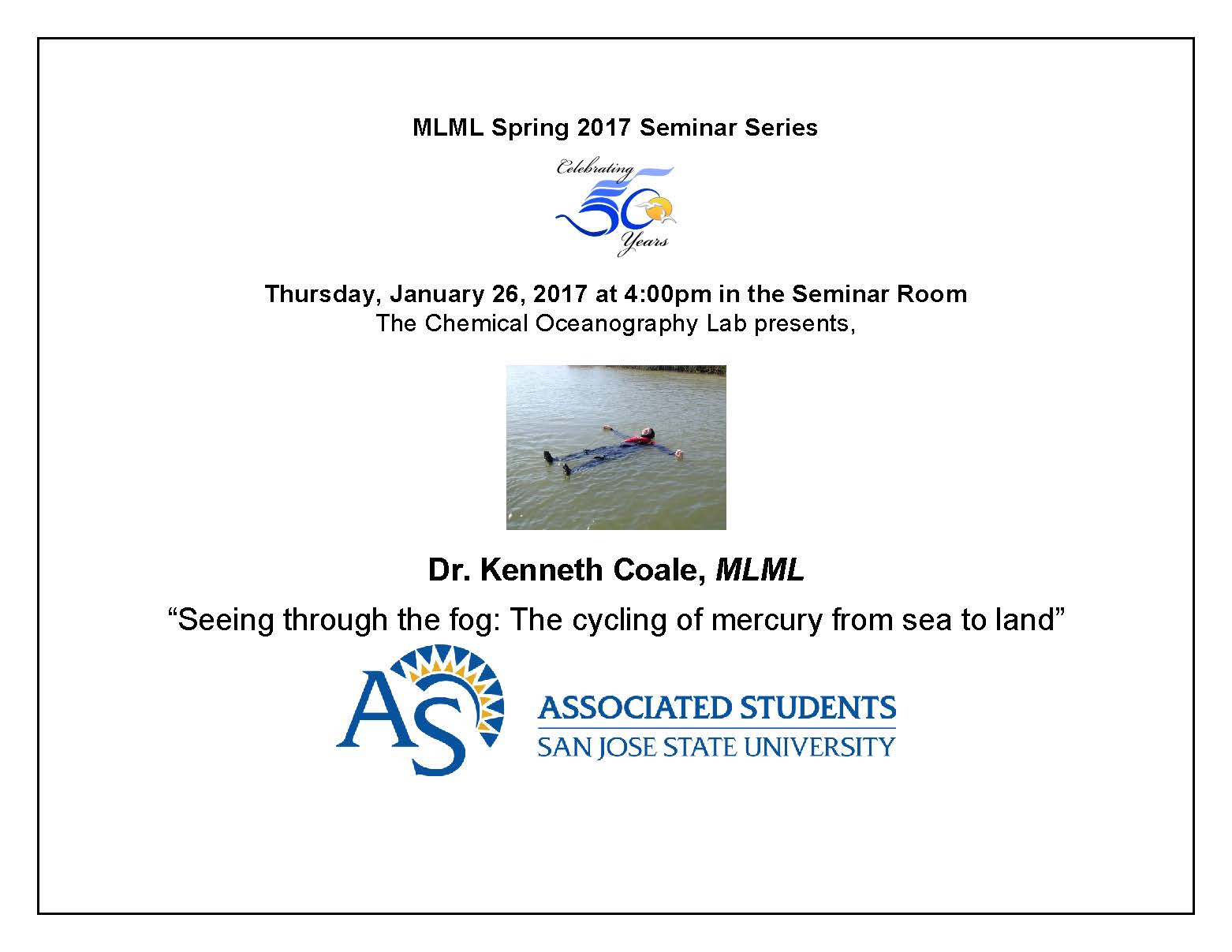 Get ready for this semester's line up! 
THURSDAY SEMINAR SERIES: 4pm, Seminar Room
8272 Moss Landing Road, Moss Landing CA  95039
Please contact our Front Desk with any questions or requests for accommodation (MLML is ADA accessible):
frontdesk@mlml.calstate.edu, 831-771-4400
Date

Speaker
Host
Title
23-Jan

First Day of Instruction

26-Jan

Kenneth Coale, MLML
Chemical Oceanography
Seeing through the fog: The cycling of mercury from sea to land
2-Feb
Paul Leary, Hopkins Marine Station
Phycology

Observations, causes and potential consequences of small-scale temperature and oxygen variability in a kelp forest system

9-Feb

Alison Stimpert, MLML
Vertebrate Ecology
Combining acoustics and technology to advance conservation of marine mammals in California
16-Feb
Amy Wagner, Sacramento State University
Geological Oceanography

Corals as a proxy for ocean and climate variability

23-Feb

Diana LaScala-Gruenewald, Hopkins
Benthic Ecology
The roles of competition, movement strategy and plasticity in the foraging behavior of an intertidal limpet
2-Mar
John Carlos Garza, NOAA SFSC
Ichthyology

Genetic analysis reveals the bases of life history variation in marine fishes

9-Mar

Qing Wang, Naval Postgraduate School
Physical Oceanography
Air-Sea Interaction in the Eyes of Boundary Layer Meteorologists
16-Mar
Salvador Jorgensen, MBAQ
PSRC & Fisheries Conservation Biology

Tracking white sharks to an ocean desert

23-Mar

Holly Bowers, MLML
Invertebrate Zoology & Environmental Technology Lab
Molecular approaches and mobile sampling platforms unravel diversity of Pseudo-nitzschia in Monterey Bay
30-Mar

Spring Break – No Seminar

6-Apr

Judith Connor, MBARI
Biological Oceanography & MLML Library
Developing diversity in science, technology, engineering, and mathematics
13-Apr
Kerry Nickols, CSUMB
Phycology

Seeing the ocean and the forest: understanding the drivers of biogeochemical variability in kelp forests

20-Apr

Jerry Kooyman, Scripps Institution of Oceanography
Vertebrate Ecology
From Bourdon tubes and kitchen timers to microprocessors, accelerometers, videocams, and endless other widgets
27-Apr
Tim Davidson, Sacramento State University
Ichthyology

Bioerosion in a changing world or Control of a native and introduced foundation species by marine and terrestrial enemies

4-May

Jenny Giles, Hopkins Marine Station
PSRC & Fisheries Conservation Biology
Shark fin forensics and research diagnostics
11-May
Sara Elshafie, UC Berkeley
Invertebrate Zoology

Engaging Any Audience: Filmmaking Story Art Techniques to Effectively Communicate Science
Moss Landing Marine Laboratories is featured in the Fall-Winter 2016 issue of The Washington Square, San Jose State University's alumni magazine.  MLML was also mentioned in the message from President Mary Papazian in this issue.
Read the feature here: http://blogs.sjsu.edu/wsq/2016/12/02/a-50-year-wave/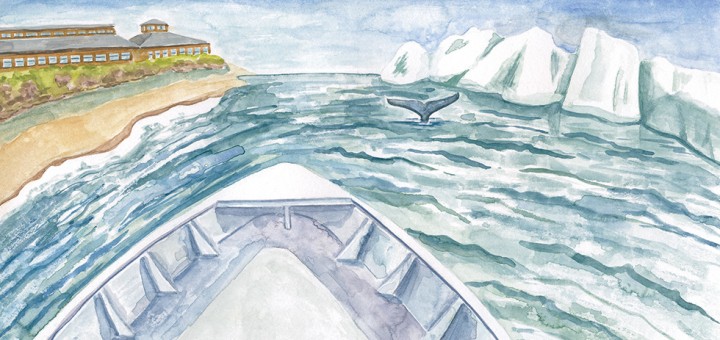 SJSU FALL-WINTER 2016 / FEATURE