Russell Arnott, University of Bath (UK)
Moss Landing Marine Labs Seminar Series - March 1st, 2018
Hosted by the Invertebrate Zoology and Molecular Ecology
MLML Seminar Room, 4pm
Open to the public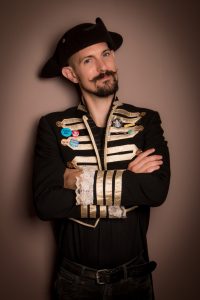 Having studied Oceanography at University of Southampton, Russell worked as a commercial oceanographer before becoming a high school Physics teacher. With a passion for public engagement, Russell left teaching to pursue science outreach as Education Consultant and Presenter for Incredible Oceans. Russell frequently performs at events across Europe including the Cheltenham Science Festival, Elderflower Fields Festival, Wilderness Festival, and Brighton Science Festival.
Russell joined the University of Bath in September 2016 to study phytoplankton morphology and its influence on turbulent interactions. As well as field data, the project involves empirical data gathering via mesocosm experiments leading to the production of 3D-printed scale models of phytoplankton cells.  You can follow him on twitter here.
Public Engagement using the Marine Sciences
As the role of the university within the local and global community evolves, being able to engage those in research outside of academia is becoming more important. Done correctly public engagement in the sciences can inspire and enthuse others in research areas / topics that they were previously unaware of while also providing the researcher with a plethora of benefits.