By Kate Sawyers (16 November 2015)

Over the past 13 years, the MLML Quilt Guild has met every Wednesday evening, give or take a few missed times for holidays and vacations. Still hard to believe it's been this long. How did we come to be? Maybe we owe our existence to Kenneth Coale. He was the one who tasked Lynn McMasters to try to figure out a way to fix the acoustics in that small windowless triangular space known as the Group Study Room. Maybe it was a blessing in disguise because that little room was the starting point for our many adventures in fabric.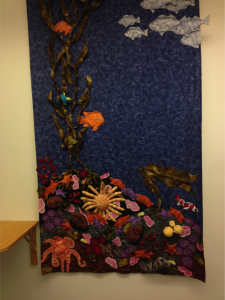 Lynn designed the large Blue Whale panels and after much help from students and staff, we assembled them and continued on with the large quilt panels on the 3rd wall. It seemed to work! No more echo in the room. Yet, we continued sewing. People came and went but there was a core group of 7-8 people that came every Wednesday evening and still meets at the Labs. After the project was finished, or maybe even before, someone suggested that maybe we should make a quilt to fund a student scholarship at MLML. By this time over a year had passed. We decided to make a wall hanging quilt of different vignettes of sea and shore life.  Amazingly, we raised $2000. That was quite motivating!  We named the scholarship in memory of former MLML technician Signe Lundstrum, a young woman from a family of artists who was creative, imaginative, enthusiastic, and coincidentally…enjoyed quilting.
We are pretty much an agreeable bunch.  There isn't much dissent except for the occasional fabric disagreement, critter placement, or exact coloring of a certain species. That first quilt was won by Vida Kenk, former Professor, Invertebrate Biologist and Associate Dean of Science at SJSU. Vida later graciously invited us to their family cabin in the Sierras.  For the next several years we planned getaway weekend "Quilt Camps" where we concentrated on our craft and enjoyed some delicious dinners with Vida and her husband Bill Minkel.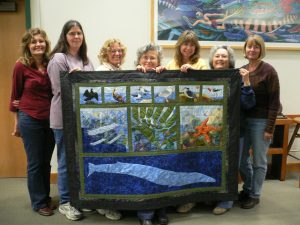 In 2010 we were honored to be profiled in American Quilter Magazine with an article titled, "Quilters to the Rescue". That same year our Leafy Sea Dragon Quilt "Dragon Lady", another scholarship project, won the Judge's Choice and Viewer's Choice Awards at the Monterey Peninsula Quilt Show.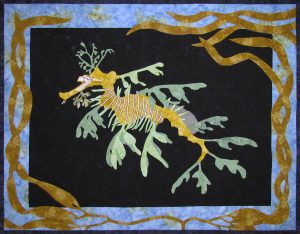 Over the years, we have made a total of five scholarship quilts, raised over $10K, and provided twenty-two scholarships. We've had side jobs too. The Save the Whales organization asked us to design and construct two children's costumes, a Leatherback Turtle and a Sea Habitat for their educational outreach program. This allowed us to raise another $1000 for the scholarship fund.
We've also enjoyed making baby quilts for staff and students. At last count, we had completed 20 baby quilts. Our first baby quilt recipient is now 10 years old?!?!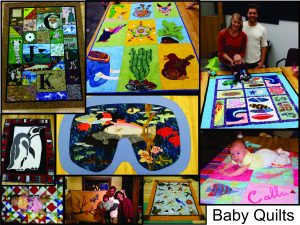 In December we will be giving away our newest quilt, "Chiton Crossing", our rendition of Tonicella lineata, commonly known as the lined chiton. Opportunity drawing tickets are still available!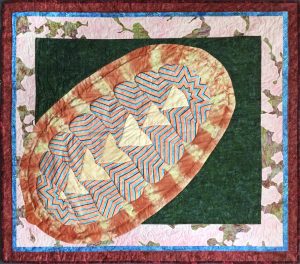 Our latest and most challenging endeavor is a quilt panel to be permanently displayed at MLML to celebrate the 50th Anniversary of Moss Landing Marine Laboratories. It is comprised of over 5000 pieces, not including the many embellishments that will be appliquéd on the panel to highlight, in fabric form, the many accomplishments of MLML over the past 50 years.
2015 MLML Quilt Guild members are: Lynn McMasters, Donna Kline, Sara Tanner, Stephanie Flora, Lois DeVogelaere, Karen Wallace, Jennifer Hansen, and Kate Sawyers. Newcomers are always welcome!