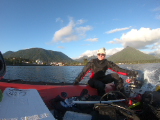 Bio:
I am a marine ecologist that works at the intersection of community and behavioral ecology. I focus on rocky intertidal and kelp forest ecosystems and am interested in how species interactions and communities are affected by climate change, environmental variation, and marine diseases. I study how predators affect prey populations and prey behavior, and am particularly interested in the resulting consequences of these key interactions for the rest of the players in the ecosystem.
As a leading member of the Pycnopodia Recovery Working Group, I was a lead author on the listing of the sunflower sea star as an endangered species through the IUCN Red List after its severe declines from wasting disease. I am actively working to understand and restore this species. This large predator has over 20 arms and can grow to the size of an extra large pizza. It is also a top predator, and its decline was followed by a rapid increase in its herbivorous sea urchin prey and a decline in kelp forests. I am working to understand basic demographic information on this star, and to understand whether it truly can support healthy kelp forests.
As a science advisor to the Oregon Kelp Alliance (https://www.oregonkelp.com/), I am working to actively restore Oregon's once lush kelp forests by working with a diverse group of researchers, commercial divers, aquaculture specialists, marine tourism businesses, restaurants, local tribes, and more. We are testing and implementing several tools to reduce sea urchin densities and support kelp recovery.