Ron Holthuysen, Scientific Art, Inc.
Moss Landing Marine Labs Seminar Series - September 20th, 2018
Hosted by the Phycology Lab
MLML Seminar Room, 4pm
Open to the public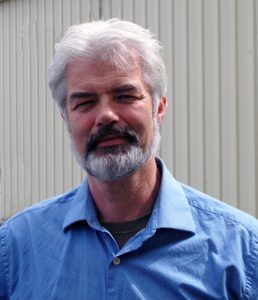 In 1980, Ron Holthuysen  founded Scientific Art Studio.  After teaching, biology, chemistry and physics for a few years, he decided to follow his desire to create natural history exhibits.  There was not really a job in which he could explore and combine his interests in taxidermy, wild life photography, film, design, history, paleontology, geology, sculpture, painting, engineering, teaching and be an inventor all at the same time.  Ron has always had the need to involve himself in a wide range of fields, and to challenge himself with interesting projects.  The result is Scientific Art Studio as it is now.
During the last 35 years, under the name of Scientific Art Studio He has been able to take on and, mostly to great satisfaction of his clients, finalize projects of a very wide variety.  From Natural History exhibits to special effects for motion pictures and television, from Museum taxidermy to mechanical costumes for a Las Vegas show, from the restoration of artifacts to the design of rock show stages, and much more.  The source of his inspiration and the focus of his interest has been always Nature in its broadest embrace.  It gives Ron great satisfaction to reconstruct extinct animals and plants, to work with scientific specialists and to dabble in whatever  draws his attention.

Scientific Art or Artistic Science ?
The initial reaction of members of the Scientific World and of the Art World often is to distance themselves from one another's realm of interest.
Science:
A world of exactness and no fuzzy, artsy stuff.
Rigid discipline.
Art:
Seeking for the absolute freedom of self expression.
No restraints.
Absolute separate worlds, right ?
Think again or better: Look , listen, smell and feel again.
Science and Art are, in my opinion, co-dependent siblings.
Both realms study and investigate and interpret the world we live in.
This talk features the some of the  visualizations and interpretations of our world through Scientific Art (or Artistic Science)