Danna Staaf
Moss Landing Marine Labs Seminar Series - February 15th, 2018
Hosted by the Invertebrate Zoology and Molecular Ecology Lab
MLML Seminar Room, 4pm
Open to the public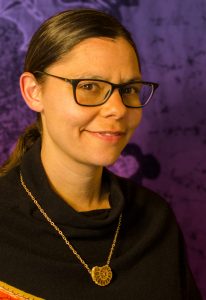 Danna Staaf fell in love with cephalopods at the age of ten. She began to keep them as pets in a home aquarium, learned to scuba dive in order to meet more of them in the wild, and eventually completed a Ph.D. on squid at Stanford University's Hopkins Marine Station. Her first book, Squid Empire: The Rise and Fall of the Cephalopods, was named one of the best science books of 2017 by NPR Science Friday. She lives in San Jose, California, and works as a freelance science writer and educator.
How the Squid Lost Its Shell: An Adventure in Cephalopod Evolution and Science Communication
Before there were mammals on land, there were dinosaurs. And before there were fish in the sea, there were cephalopods—the ancestors of modern squid and Earth's first truly substantial animals. With dozens of tentacles and formidable shells, they presided over an ancient undersea empire. These mysterious, intelligent, and adaptable creatures are the heroes of an epic adventure spanning hundreds of millions of years, from the primordial ocean to the calamari on your dinner plate.
The story of squid evolution will be told interleaved with "the story behind the story": strategies, examples and practical tips for getting out the word about your favorite science, no matter how intricate or obscure.