By Andrew DeVogelaere (4 November 2015)
In the 80s, 90s, and parts of this past decade, MLML Halloween parties were held at the Elkhorn Yacht Club. Recently the party has been up at the main lab in the seminar room. The setting at the Yacht Club was conducive to wild times: live bands, plenty of free drinks in the front grass area, pool tables, a large dance floor, and a full bar in the back. The costumes featured marine themes (e.g., sharks and jellies), topical events (e.g., Tonya Harding and Jeff Gillooly with Nancy Kerrigan) and ghoulish presentations (e.g., a walking body bag and the flattened I-880 overpass). Part of the deal between MLML and the Yacht Club was that we had to allow their members to attend. That meant the masked character constantly bumping into you or staring at you all night long could be a friend playing a prank or an odd Club member; it added to the fun. The evening always included a costume contest, and I remember that Greg Cailliet and John Heine were often in the finals. Enjoy a few pictures below from  some of the parties, and send us a comment if you remember other good costumes, have other scary memories, or better yet send us a picture with a label.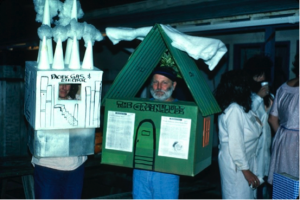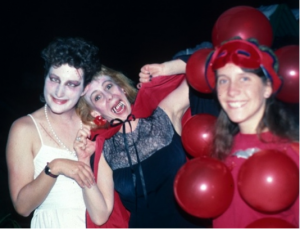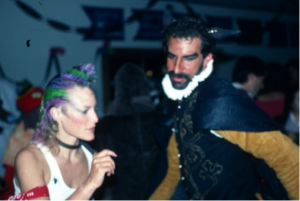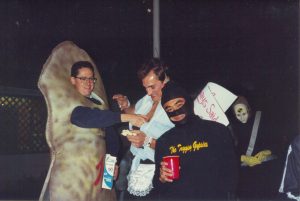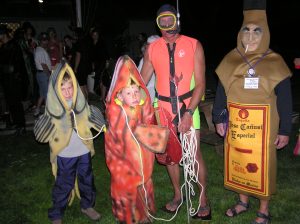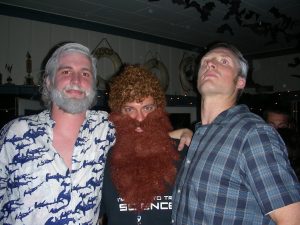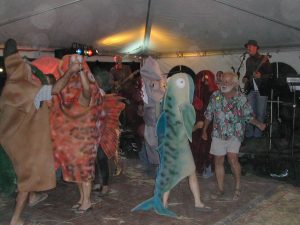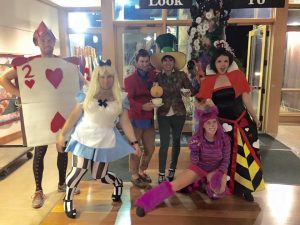 Email us with your comments and pictures. Happy Halloween!
Here is a comment and picture from David Schwartz:
Attached is a picture I'm particularly fond of from the end
of the Halloween party of 1980 or 1981. Rich Rasch on the
left, who passed away in 2008 from a heart attack, me in
the middle, and my wife to be Vera Brown on the right.