By Jim Harvey (12 August 2015)
If you come to the main lab of MLML today you see a spectacular building (LEED Gold certified), with amazing views, and well-outfitted teaching and research spaces. What you don't see is that there are two large cement foundation slabs and one smaller one nestled under the cypress and eucalyptus trees just to your right as you come up the hill (Fig. 1).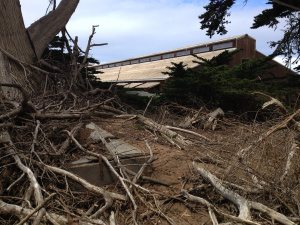 "In the days immediately following the Japanese attack on Pearl Harbor, the United States military scrambled to provide personnel for the protection of America's vast unguarded coastlines from incursion by Axis powers" (Breschini et al. 1996). In April or May 1942, the all-black 54th Coast Artillery Regiment arrived under cover of darkness to establish an encampment on the hill where MLML now resides (Fig. 2).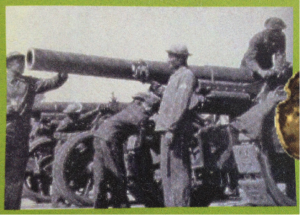 Lou Calcagno (former Monterey County Supervisor and supporter of MLML) remembered that there were five buildings in the grove of trees, and the four gun emplacements were dug into the sand at the crest of the hill, at the location of the future water tower. The 54th had arrived to protect the central CA coast, and remained on the hill at Moss Landing until mid 1944.
At the end of WWII, the Sandholdt family came into possession of the buildings, and they were eventually sold and moved off the property. During the archeological dig before the new MLML building was constructed they found shell casings, military dog tags, and a large pile of catsup bottles, a testament to the cuisine of the 54th.  Amazing history on this hill.