By Jim Harvey, Kenneth Coale, and Greg Cailliet (21 October 2015)

An institution such as ours exists on many levels. MLML is loosely integrated into the fabric of the State's educational system, we have a community presence (both fiscally and organizationally), we are involved at local, state and federal levels through formal agreements, and we are socially connected. We are also personally connected to a group of individuals who resonate strongly with our mission, our values, ethics and deeds. These are our allies, who at critical times, have stepped up to help us out of a jamb, or helped us to solve a difficult problem. We would not have them without strong personal connections and an impressive and honorable institutional record. Although there are many such individuals, around this time of year (October 17) our memories bring to mind a few who really made a difference for us.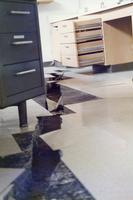 MLML survived the earthquake and was able to create an incredible new home on the hill in part because of two amazing individuals, Jon Raggett and Larry Horan. Both of them are no longer with us but their relatively recent deaths seemed to beg for us to tell their stories.
After the 1989 Loma Prieta earthquake, the lab had been destroyed but all the equipment, furniture, samples, computers, and DATA were still in the building. The Monterey County officials immediately came out to the site and red tagged the building. No one was to enter the building, and the plan was to raze the entire building without allowing the contents to be removed. This was outrageous.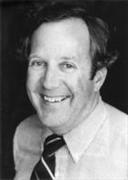 There were unpublished thesis data and long-term datasets in there, there were valuable samples collected over many years in there, there were atomic absorption spectrophotometers, an electron microscope, alpha spectrometers, microscopes, tools, an entire library, furniture, and there was other good stuff in there, as well. In addition, there were thousands of reagents, toxic substances, and environmental hazards. There was enough Rhodamine dye to turn Elkhorn Slough pink and probably enough formalin to pickle all organisms there as well. To simply scrape the building and take it to a landfill would miss an important salvage opportunity and create an environmental disaster. Director John Martin had a friend who was an engineer, Jon Raggett.
Jon Raggett had gone through the Carmel schools, graduated from Princeton, received an M.S. from Stanford, and a Ph.D. from Princeton. He was trained as an engineer, and had worked in earthquake research and structural engineering. John talked to Jon, and Jon convinced the Monterey County folks to allow him to oversee some short-term shoring of the structure that would allow the MLML people access to the building to remove its contents. So over a few days Jon instructed us where to place posts and beams, and a small crew of faculty, staff, and students with hardhats on would enter a room and quickly pass all the things in the room out the door. Outside the building was a long line of MLMLers that passed the contents along until it reached waiting U-Haul vans that carried the insides of MLML to Salinas.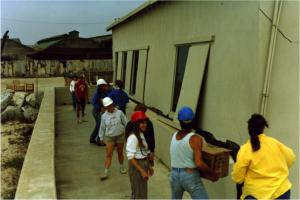 Jon basically saved the day and the data. Many a thesis was saved, and now much of what we have in the new building is stuff removed from the old lab. We would have had to start from scratch if Jon had not come to our rescue.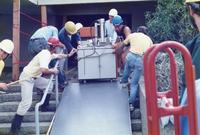 Jon Raggett's contribution to MLML is fitting because one of his many accomplishments was the creation of School3, a nonprofit that funded building schools in developing countries. School3 has built more than 71 schools in places like Africa, Honduras, and India. We think you can add one more school to that list because Jon was a huge part of rebuilding MLML.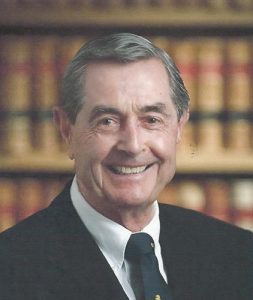 The other person that was instrumental to the rebuilding of MLML was Larry Horan. MLML had been told shortly after the earthquake that a new building would be constructed within 2 years. After moving to Salinas into temporary trailers, a long battle began about whether we could place a new lab on the hill in Moss Landing. Some local residents did not think it was wise to place the lab on the hill, thus began many days spent presenting our case to the Board of Supervisors or any other regulatory agency considering the location of the displaced MLML. It soon was apparent that we needed local representation that knew the law, knew the local politics, and could argue our position in all the various places. We found Larry Horan, and his legal partner, Mark Blum.
Larry was a remarkable individual. He was a graduate of Boldt Law School at UC Berkeley where he also played intercollegiate basketball. This helped to both feed and sharpen his competitive edge on and off the court(s).  He also was known as a scholar of the first amendment, which helped him not only to champion for those seeking first amendment protection, but also to listen deeply to what people of different persuasions were saying. He took this very seriously and respected everybody's voice and he in turn, earned great respect from both his colleagues and the justice system. During the earthquake reconstruction days when those fighting our plans threatened the rebuilding of MLML, careers, and every way of life for MLML, few of us were willing or able to actually hear what others were saying.  We were too busy being reactive, defensive, and fighting for our lives.  Larry would always remind us (in very gentle ways), that the success of our case would come about by listening carefully, doing our due diligence, and never interfering with another's rights.  Because he listened carefully, he was able to dismantle arguments made by our detractors and skillfully dispatch them with the utmost integrity.  It made all the difference for us to know that we had a legal giant on our side, who was first a person of integrity and compassion. He always made sure we actually did take the higher ground.
As you know we finally prevailed, a spectacular lab space was constructed, many students, staff, and faculty have enjoyed the new lab space we occupy, and the Monterey Bay community also uses this space constantly. These two fine men of the Monterey community were instrumental in getting MLML out of a wreck and into a new place.