Mark Yarbrough
Principal Investigator
Department: Marine Optical BuoY (MOBY)
Contact:
email: mark.yarbrough@sjsu.edu
phone: (808) 847-3449
office: University of Hawai'i Marine Center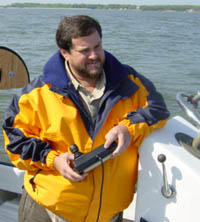 Biography:
Mark Yarbrough is the principal investigator. Mark began his work at MLML in the VERTEX project in 1980. Mark's skills in mechanical, electrical and electronic design, construction and operation are central to our research using this equipment. As principal investigator, Mark resides in Hawaii where he oversees the MOBY project from the Sand Island facility.