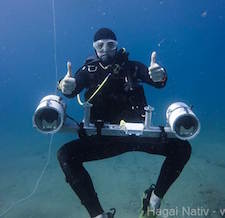 Biography:
Dr. James Lindholm (B.A. California Polytechnic State University, SLO; M.A. & Ph.D. Boston University) is the James W. Rote Distinguished Professor of Marine Science and Policy in the Division of Science and Environmental Policy at CSU Monterey Bay. He is the founder and Director of the Institute for Applied Marine Ecology (IfAME) at CSUMB, and the founder and Program Chair of the CSUMB Research Diving Program. He teaches both undergraduate and graduate courses, including:
MSCI 380 Scientific Diving Methods
MSCI 455 Ecology of Marine Fishes in California
MSCI 470 Science, Policy and Management in the Marine Environment
MSCI 485 Marine Biogeography of California
MSCI 645 Advanced Marine Science and Policy
He has conducted research around the world, including the Pacific, Atlantic, and Indian Oceans, the Mediterranean and Caribbean Seas. Dr. Lindholm regularly uses technologies such as remotely operated vehicles, human-occupied submersibles, autonomous underwater vehicles, and acoustic telemetry. He has conducted five saturation missions to the Aquarius Undersea Laboratory in the Florida Keys.
Research Interests: 
Landscape ecology of fishes
Recovery of seafloor habitats and associated taxa following the cessation of fishing activity
Design and efficacy of marine protected areas