By Vicky Vásquez
The diversity of sharks, rays, skates and ghost sharks has increased exponentially with nearly 20% of all new species described over the past decade.
Unfortunately, the majority of these sharks and their relatives have largely been "lost" in a hyper-driven media age whereby a few large charismatic shark mega-stars overshadow the majority of shark species, especially during SharkWeek!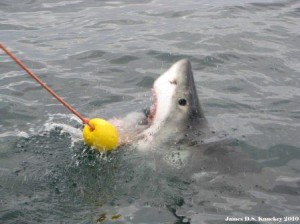 While these mega-star's, such the Great White Shark, receive much media adulation and are the focus of numerous conservation and scientific efforts, the "Lost Sharks" remain largely unknown not only to the public, but also to the scientific and conservation communities.
Please help MLML's Pacific Shark Research Center to discover and name these 'Lost Shark' species. Our Experiment.com campaign is raising funds to do just that.
Check out the video about our project to learn more. Thanks to the support of so many, we have almost met our goal of raising $2,800. Any donation helps!
As a bonus, anyone who donates $100 receives a limited edition print of a new species of ghost shark recently described by the PSRC by world-renowned artist Marc Dando.
Thank you for supporting shark science!