Living in Monterey Bay
Below you will find details about housing and activities in the different cities that students typically live in while attending MLML.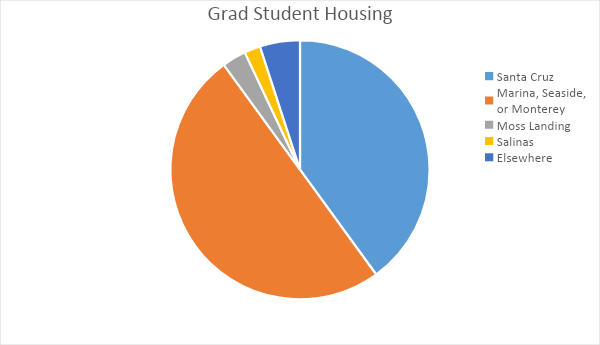 The environments are very different, both for living "experience" and price. For price, it's explained as if you're renting a room in a 3 bedroom. So, all of these price estimates will be higher if you're looking for a 2 bedroom or studio. Time estimates are from the lab (MLML):
To the South: Marina (15 min), Seaside (15-20 min), Monterey (25 min) or Pacific Grove (25-30 min). 
Marina and Seaside: (

$600 - $850)

Very residential, so there is not much to do around here, but rent is way cheaper.

There's a Walmart, Target, Grocery Outlet, and Costco nearby, as well as

 quite a few breweries and restaurants.
It's close to a lot of hiking areas in the Ventana Wilderness and Los Padres National Forest.

CSUMB's campus is nearby and we can use their facilities including their library, pool, and gym. 

If students want to go out, they usually go to Monterey (15-20 min drive).

There is often more cloud cover from the fog that rolls in. 

The drive to Moss is consistent, usually no traffic. 

CSUMB East Campus Apartments: ($700 - $950)

At East Campus, you can choose a family unit or rent a room in a student apartment.

Student apartments typically have two students to an apartment (each with their own bedroom and a shared bathroom) so you can pair up with another MLML student and apply or be matched with a housemate.

If you prefer to live alone, you are also eligible since you are a graduate student.

East campus apartments can come unfinished or furnished and can fluctuate in price

They are usually ~$700/room when apartments can be shared 

Currently due to COVID restrictions, the apartments are all single occupancy and

 are $876 unfurnished and $911 furnished 

You can apply for East Campus housing at the beginning of each semester.

There's no much going on around East Campus but you are close to CSUMB and right on theMST bus line.

There's also plenty of parking and it's a good option to have a decent amount of space at a reasonable price. 

Military Housing at The Parks at Monterey: ($600-$700)

Available even if you are not a member of the military!
The Parks at Monterey has many 2-4 bedroom houses for rent with a variety of floor plans. If you find a group of housemates, you can apply.
You will need to do a background and credit check as part of the application process.
More info here

Monterey: ($650-900)

Slightly more expensive because it's a tourist center, so there are always lots of tourists, especially in the summer months.

Monterey has all the attractions of a vacation town (Monterey Bay Aquarium, with all it's regular events, Fisherman's Wharf, theaters, great diving, nice restaurants), but with a chilled-out friendly atmosphere. 

There's a couple of streets with cool bars and fun places to eat, but the nightlife is better in Santa Cruz. 

The weather is beautiful and consistently sunny.

There is sometimes traffic, but it's irregular. 

Pacific Grove:

($600-800)

Pacific Grove is near Carmel, which is where the fancy vacation homes are located.

Most students don't live down here due to the cost and added distance.

You'll hit a little bit of morning traffic, maybe bumping your commute up 10 min from Monterey. 
To the North: Watsonville (15 min), Capitola (30 min), Santa Cruz (35-45 min) 
Watsonville (

probably ~$500-600)

Lots of farming, much like a lot of the area directly around Moss Landing.

There are some grocery stores including Grocery Outlet, fast food restaurants, shopping, and even a Target.

Not much to do, but a shorter drive to both Santa Cruz and Moss Landing. 

Aptos/Soquel

A beautiful, quiet town, spread among hills of gardens, orchards, and farms.
Housing varies greatly, from apartments to houses back in the woods.
Quiet community feel, very little traffic, although not a whole lot of things to do.

Capitola

Also a good area, so you could be between Moss Landing and the fun Santa Cruz area. Rent here is also cheaper than directly in SC itself.

Santa Cruz:

($700-800, often up to $1,200) 

Generally split between "West" and "East" SC split by the river. 

Housing in all of SC is expensive; it's a big cause of concern. A lot of vacation homes means expensive houses/land for the locals. 

More nightlife; fun bars and dancing and

young people

. "Keep Santa Cruz Weird" kind of vibe. It's the Skate Board and Surf Ground-Zero, and there are lots of bikes, creativity, music, etc. You feel more culture around SC than in Monterey and definitely more than Seaside.

The morning commute can take around 25 to 35 minutes depending on where you live, and you are more likely to hit traffic.  
To the East: Salinas (20 min)
Center of the Bay: Moss Landing (no commute)
Moss Landing: (

$550 - 700)

Some students do live here… it's slow. Very little "to do" and you'd have to go to Marina or Salinas for groceries. But they can walk to the Labs and you're very close to the water. 
A lot of students will send out emails to the entire MLML community when rooms open up in their living situations.
You can also check the usual housing sites for new listings including Craigslist, Rent.com, etc. If you find a good housing option, feel free to send out an email to the other new students to see if anyone would be interested in living together in a shared house.
For housing in the Santa Cruz and Monterey Counties, there are several Facebook pages I'd recommending adding yourself to:
Santa Cruz Housing
UCSC Housing Sublets & Roommates
Santa Cruz Housing for Rent & Sale
Homeless Otters of CSUMB
Monterey County Homes, Apartments, Rooms, Studios for rent, + Houseshares