by Kristen Green, Ichthyology Lab
I'm adjusting to this new and strange reality in Antarctica, and luckily we have been incredibly busy. The work we are doing is dynamic and interesting. Right now we are monitoring the reproductive success of penguin species here on the island. The Gentoo penguins were already starting to lay eggs, and another species, the Adelies, were getting ready to lay eggs.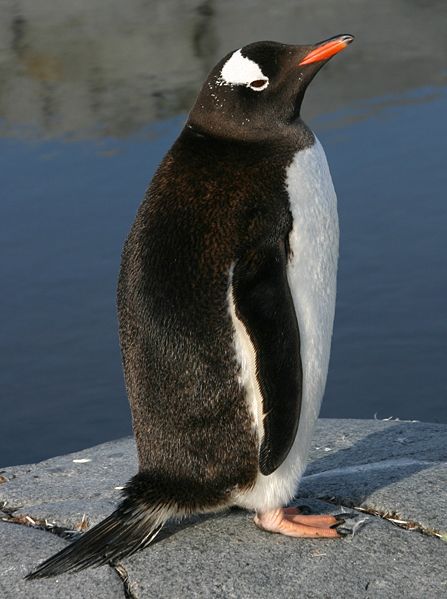 We spent the first few days setting up sites, checking for eggs, and banding penguins for future monitoring. We each have our own colonies to monitor, and it takes about 4-6 hours to make your 'rounds.'  Our schedule can be erratic, with some nights we work until dusk (which is at 10 pm right now) and others we are done earlier, or have data or other hut chores to do. Our weather forecast system is as simple as looking at the window: if it's nice outside GO!
If you are wondering how showering and laundry get done in this remote place, this provides an excellent segue to a description of my Saturday night at the Polish research station. Arctowski is a few miles away and we go there once a week. Getting there on this particular Saturday was quite a process. We first carried a canoe ¾ mile to the edge of the bay, where we will keep it for the rest of the season (thank goodness!). Then we navigated a dicey canoe crossing in front of a glacier with four people, four heavy packs, and a little bit of swell. We made it across safely, but with only a few inches of freeboard above the water and some wind and swell – it was an exciting trip. We then hiked another mile or so to Arctowski.
I was looking forward to hot showers and laundry, which we got, but the showers are set up in what looks like a Russian engine room from the Cold War era. Conveniently, though, after you wash your clothes, you hang them in front of one of the huge generators in the room which create about a 15 mph hot wind. Needless to say my clothes dried quickly, albeit crunchily.
The next day was long; we had to weigh 50 struggling penguins the next day at a site near the Polish station, and then after we returned home, we had to do the rest of our penguin rounds near our field station. We didn't finish until dark  We're getting ready for dinner right now, and it is a little stormy outside. I can hear the penguins from my room and I'm starting to not even notice their noisy cries – I guess penguins can't tell themselves apart either, so they recognize their mates by voice, which means a lot of "communicating!"