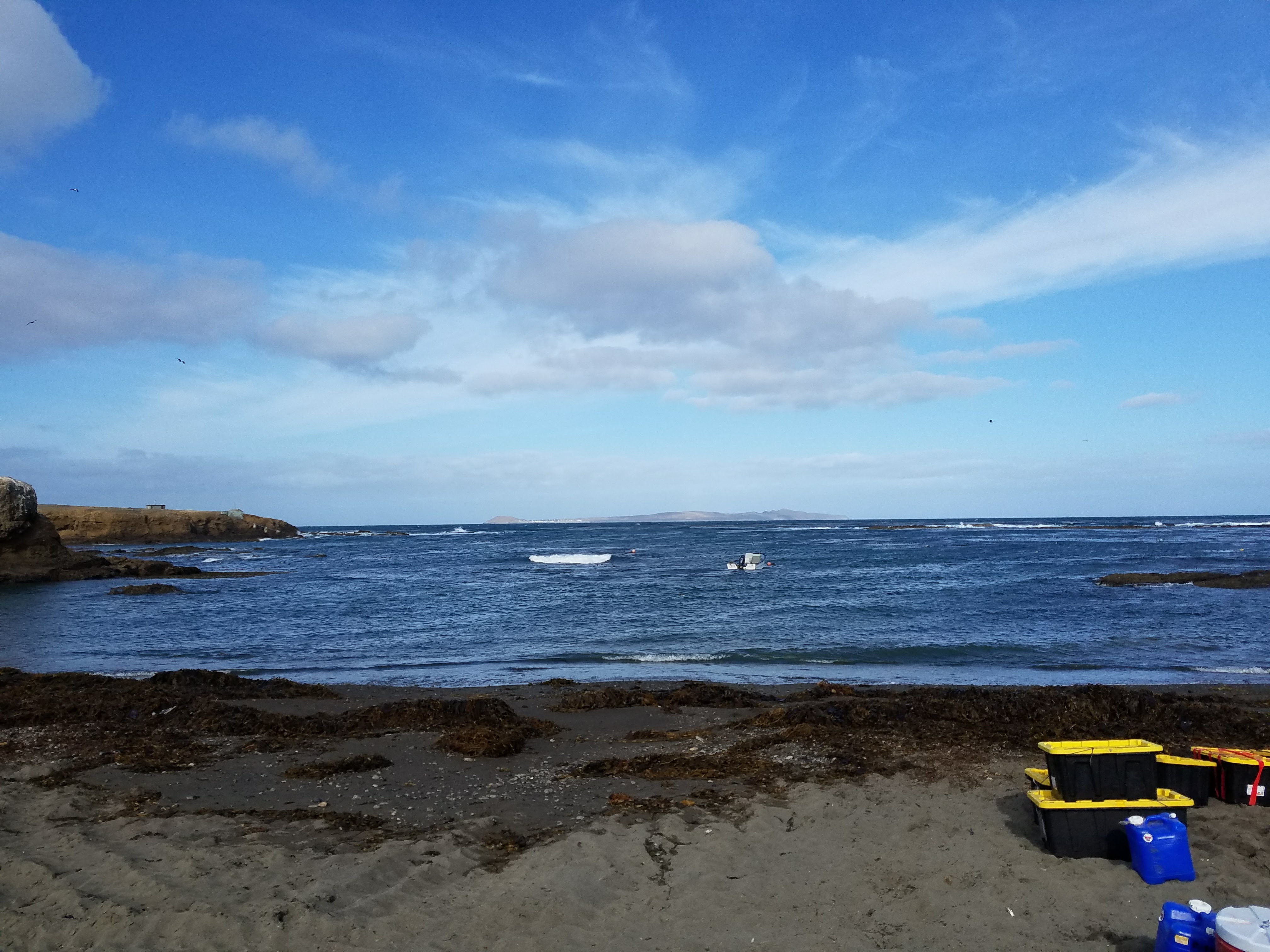 After three long days of riding in a car through the desert the glint of sunlight on water was finally on the horizon. The energy in the van shot up as everyone shouted in excitement, eager to get out and stretch their legs. When the caravan finally pulled into Punta Eugenia we unpacked, made camp, and hoped that the wind would settle down enough that we could cross over to Isla Natividad the next day.
In the morning many, if not all of us, were skeptical on the conditions and thought it might be better to wait another day for the winds to slacken, however, we had put our faith in the locals, who knew the area better than any of us ever could.  The boat captains seemed to laugh at us as our faces showed our apprehension to get into open water, and soon enough our apprehension calmed as we saw how masterfully he navigated the waves and we began chatting about the local waters and were amazed by the environment around us.
After we arrived on the island we met with the local fishing cooperative, and proposed our field projects to them to gain permission to dive and collect samples  in their waters. The whole process was a little nerve wracking as our projects hinged on their decision to allow us to enact our research. Our  "translators" (a pair of students from La Universidad Autónoma de Baja California (UABC) in Ensenada, Jeremie Bauer and Andrea Paz) helped to relay our proposals to the locals. As each of us gained permission relief set in and we began planning our next steps. After the meeting we dove right into working on our projects, with help from the locals. The days seemed to fly by as we rose with the sun and went to bed well past dark.
It is easy to get caught up in the research and logistics while out in the field, constantly reminding yourself to not forget your data sheets, quizzing yourself on your field methods, and strategizing on what site would be best to sample next. Granted, the larger scope of the class is to learn, develop, and enact methods while in the field and learn how to adapt to situations as they arise. Something that pairs right alongside with that is navigating a new environment with locals who may, or may not, even speak the same language as you and is an experience that ordinary classes cannot prepare you for.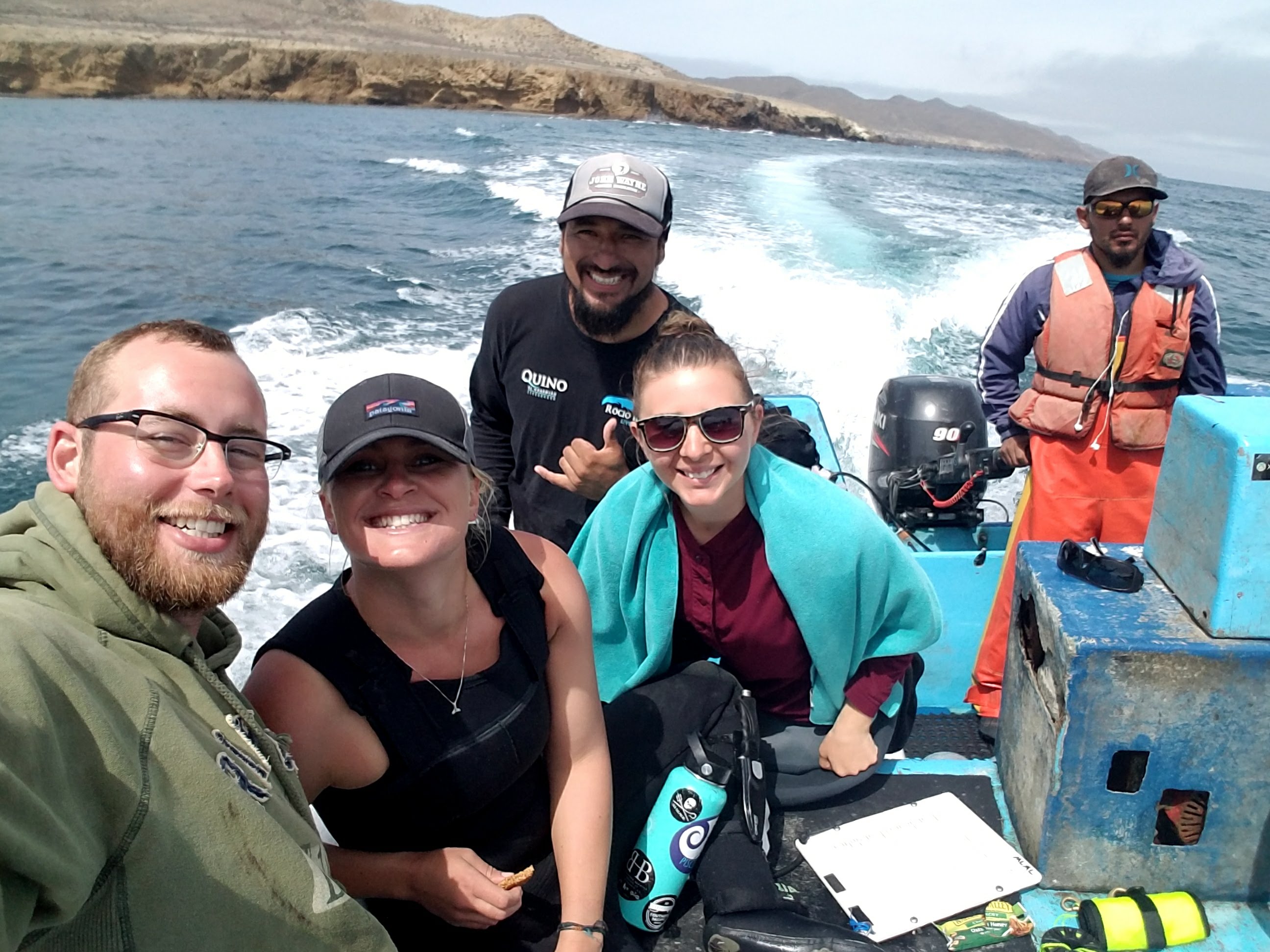 Every day we worked with locals, spending hours with them in the pangas, learning the areas where we were diving and what species we may find. Our relationships quickly morphed from strangers, to colleagues, and finally to friends as we shared our dives and helped each other with our projects. While on Isla Natividad, the cultural festivities of Semana Santa occurred and we were all invited to join the town on the beach to celebrate, share food, music, and company. As soon as we arrived on the beach we were ushered off to every tent and introduced to the families of our hosts and everyone offered us food and invited us to stay, eat, and visit, their generosity towards us was astounding. As the night progressed barriers broke and conversations blossomed all around the tent and fire. Even though most of us spoke very little Spanish (or some none at all) and they spoke very little English, stories were being told. This had to be one of my favorite moments on the island, sure, the diving was fantastic, but the chance to be taken in by the town and being accepted so fully into their culture was an experience that you can't find just anywhere.
Seemingly just as quickly as we arrived our time on Isla Natividad drew to a close and we began cleaning up our camp and preparing to leave the island. On our last night on the island we invited those on the island who we worked closely with to dinner as a thank you and goodbye. The small restaurant was packed with good people, food, and conversation. And the tension of being in a new environment that we all felt the week before was no longer present as we all felt like we were now part of the community. It was with a heavy heart that we left the next morning, however, we did so knowing that we would be welcomed back any time and knew that we had found a second home on Isla Natividad.