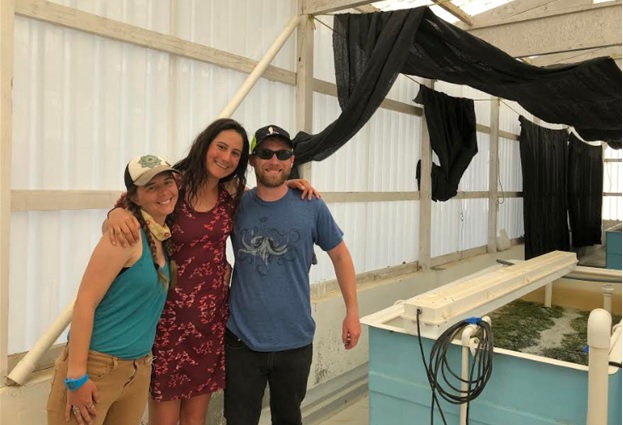 Life in the Field
After much contemplation, I decided to bring my laptop along on this journey to the unfamiliar coastal desert in Baja California. A laptop would facilitate more efficient data entry at our site and allow for statistical analysis on the return trip. The morning after our arrival at Punta Eugenia, however, made me question my decision. On that day, we packed all of our belongings on a number of panga boats and ferried them and ourselves from the mainland to Isla Natividad - and the journey was fairly bumpy.
Powerful currents and swell defined the "yellow" conditions that were the last categorical color for allowable transit. I was on the last of the boats and all of my gear was sent over on the first boat, which did not ease my nervousness. Once I was aboard the last panga and underway on the wavy route, my unsteadiness was quickly replaced by thrill, excitement, and anticipation. The opportunity to explore an unfamiliar place and dive into a rich and bountiful system is an opportunity not to be missed. If you are presented with that opportunity, prepare wisely, facilitate your safety responsibly, and journey into the unknown.
Our journey thus far had been filled with friendly interactions with the locals at every stop. We ate goat tacos and were pleasantly surprised to discover that they were some of the best tacos we've ever had. Our boat operator was no exception and pleasantly exchanged conversation with the few of us that also spoke Spanish. This conversation was multi-tasked over concurrent concentration and deft navigation through these dangerous waters. This most definitely wasn't his first trip. I wouldn't be surprised if he had thousands of these trips under his belt. Hindsight has provided me with multitudes of questions I would love to inquire of the islanders and their way of life. For someone who thrives in a coastal environment, someone like myself, it seemed to be a very enjoyable way of life.
At the end of the day, muscle soreness was a poignant reminder of the amount of gear we had hauled on these pangas. The local method of hauling gear utilized designated truck drivers to navigate pick-ups into the surf zone to connect with the pangas and transfer gear. As a reminder, metal and saltwater aren't the best of friends - one could say they have a corrosive relationship. The saltwater and the bumpy dirt roads are the likely culprits for the average island truck life expectancy of 3 years. If the amount of gear that was frequently transported throughout the year equated to anything near to what we brought to the island, that was likely another contributing factor.
Research Project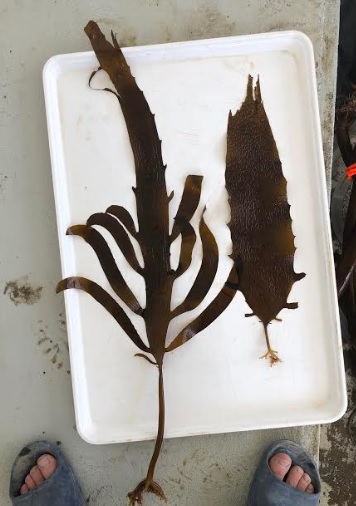 Prior to the start of the trip, I decided to study the most abundant understory kelp (and the only observed understory kelp) at Isla Natividad: Ecklonia arborea. Ecological interactions between understory and canopy kelps have been well established; the niches of the two subtidal kelps E. arborea and the giant kelp (you may be more familiar with) Macrocystis pyrifera overlap along the California and Mexico coast. E. arborea and the giant kelp M. pyrifera compete for resources in the subtidal kelp forest within this range, however M. pyrifera favors  colder waters while E. arborea favors  southern, warmer waters. Additionally, E. arborea have the capability of persisting in high wave energy environments, which allow them to form forests within exposed areas and within the intertidal zone. Established forests of E. arborea can prevent the inside establishment of M. pyrifera. Oceanographic disturbances such as El Niño events ) favor the understory kelp as well by the combination of warm water exposure and heavy wave action.
I didn't know what to expect, but my 8 days of diving around the island introduced me to a new underwater world. Forests of Macrocystis pyrifera around the 7km by 3km island contained individuals with differing densities. Understory forests contained forests of Eisenia arborea as far as the visibility allowed and further (with exceptional visibility, keep in mind). Within both of these ecotypical forests, the dominant kelp was interlaced with its competitor. Assemblages with these two kelps appeared to vary in terms of the density relationship between the two species between sites (data pending). Field collections of whole individuals at non-protected sites were used to compare some of these appearance characteristics to see whether they vary between sites or whether certain morphological characteristics correlate with others. These collections were analyzed immediately following diving and typically lasted through dinner (even with the gracious help of my colleagues).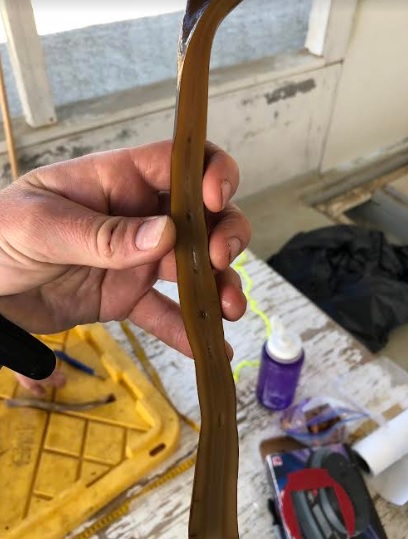 The Flavors of Baja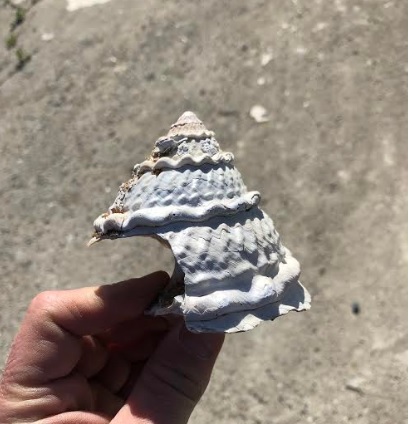 The food at the island was understandably a delicious melange of various seafood. I experienced one of the most exceptional snacks between our daily dives. Surface intervals between dives were accompanied by delicious wavy turban snail treats courtesy of our divemaster and boat operator. The efficient and quick chopping apart of numerous snails' shells with an onboard machete yielded a small bucket's worth of tasty morsels. These snails were less like the escargot from the land and more like an abalone. This treat itself highlights the bountiful harvests that the ocean can yield. Further so, this treat highlights the necessity of managing these resources in order to preserve and allow for their continual use for future generations. The wise implementation of the islanders' Marine Protected Areas illustrates a clarity that I wish was more prevalent in American coastal communities.
Reflections on my experience
Science is not typically described as "easy". This trip to a beautiful, remote, desert island wasn't the easy-going vacation-esque experience one may have expected. Hard work was paramount to collect as much data as possible in a relatively short amount of time. My colleagues and I took apart and measured 137 individuals and conducted 16 dives in a total of 9 days on the island. Conducting science at Isla Natividad was a privilege that I greatly appreciated. I hope to return there one day to follow up on my research with Eisenia arborea.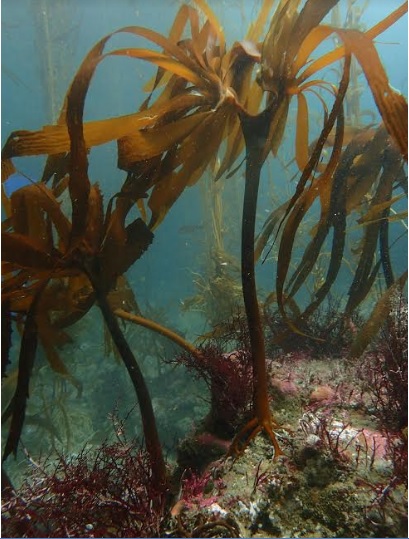 Saying goodbye is also never easy. The relationships we've developed with the community on the island were very rewarding and positive. I also hope to return to the island just to touch base with the islanders there, be it the island's head of ecotourism, the island's divemasters and boat operators, restaurant owning family, head of aquaculture, our drivers, or the multitudes of others that showed us an amazing time. Our departure marked the end of our time at Isla Natividad, but just another step in our progression as aspiring scientists. We continue forward with our studies with the aspirations to explore and discover the unknown.