By Mason Cole, Vertebrate Ecology Lab
This post is part of Dr. Gitte McDonald's marine mammal class blog series.
MLML Director Dr. Jim Harvey likes to say that harbor seals are the "cats of the sea".  If that's true, then California sea lions are the rambunctious young puppy dogs of the sea.  But not those little baby fluff-ball puppies; no, more like that almost-full-grown, 90-pound wrecking ball.
Many a commercial fisherman would cringe to read this, but I love working with sea lions.  They earned their place in my mind as "mer-dogs" for more than just their energy and enthusiasm: they are also particularly intelligent, with striking personalities and an impressive capacity to learn trained behavior.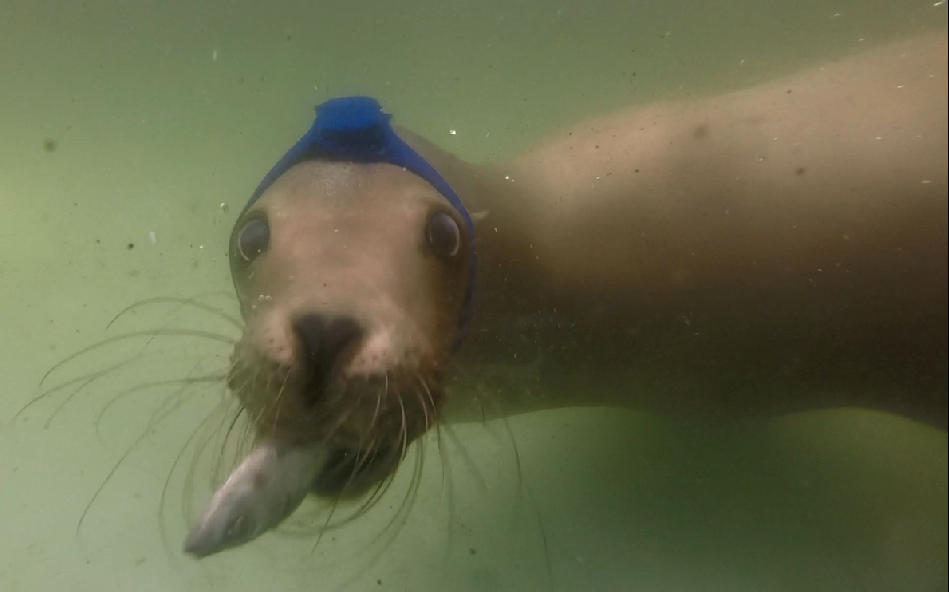 Allow me to introduce Cali and Nemo, two California sea lions with the project SLEWTHS (Science Learning and Exploration With The Help of Sea lions, founded and directed by Dr. Jenifer Zeligs).
Both were rescued and partially rehabilitated by SeaWorld, but neither was re-releasable into the wild. They were each given a second chance at SLEWTHS, where they have since thrived.  There, they receive necessary care and were trained to voluntarily participate in several types of activities; these include medical exams, educational demonstrations, and, of course, research.  It's a relationship that embodies the motto "People helping animals; animals helping people": SLEWTHS sea lions enjoy enrichment through training challenges and relationships with each other and with trainers, while the humans who have the pleasure of interacting with them – including staff, researchers, or anyone who has the pleasure of learning a thing or two from an educational show – are rewarded with invaluable experiences; and, in some cases, unique research opportunities.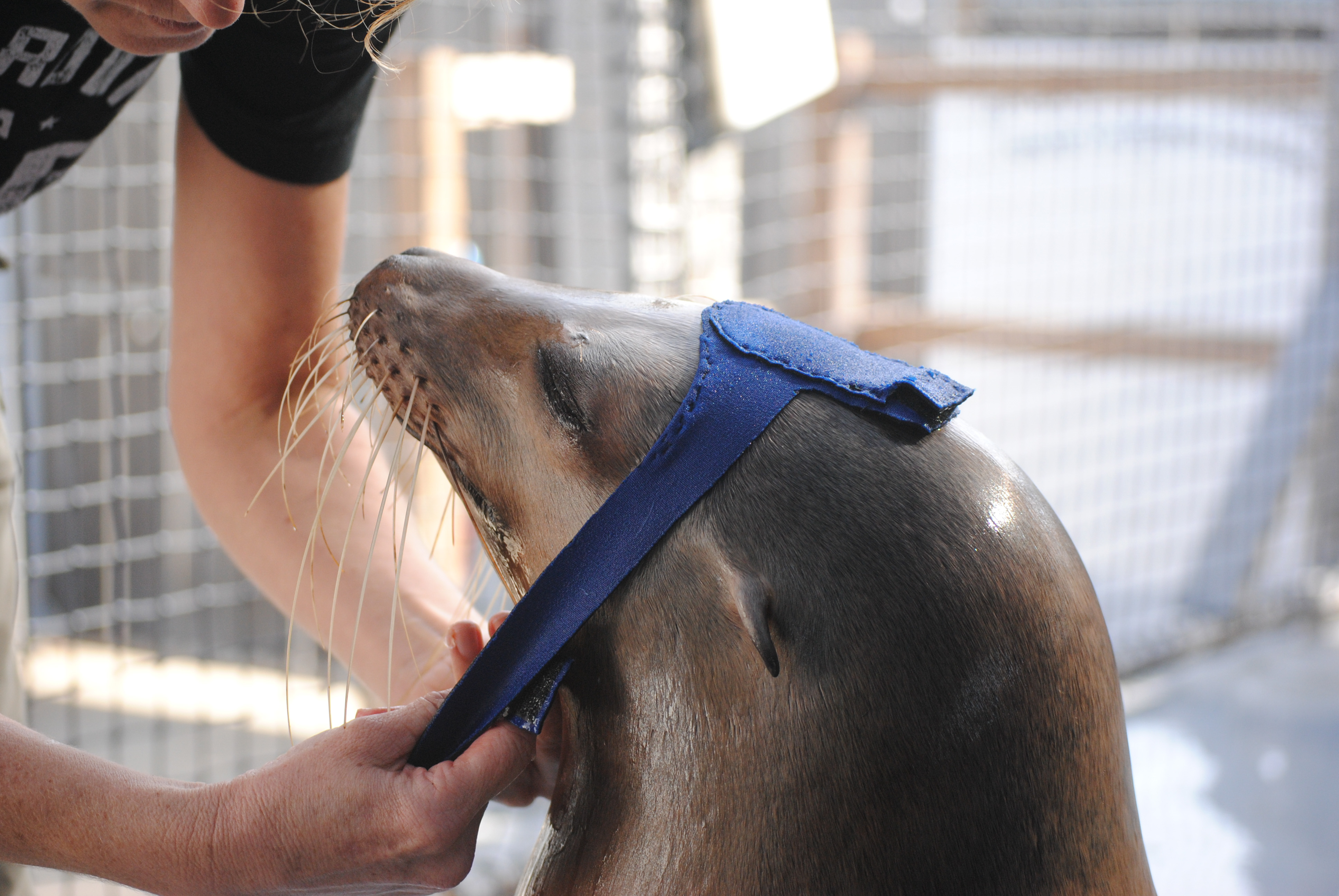 And that's wonderful, because there once was a grad student (me) who was very interested in working with trained sea lions (and their people) to validate some fancy biologging techniques!
Alas, the majority of this thesis work involves me sitting at my computer in lab, wishing I was frolicking with the whales out the front window, yelling at my clunky MATLAB codes.
But that's not a fun blog.  Instead, let's talk about my favorite part of this project: data collection at SLEWTHS!

It's quarter to two.  SLEWTHS staff and trainers are helping me measure thawed herring (human consumption grade!) while I ready the dual-GoPro system and turn on the 3D accelerometer datalogger.  Cali knows what's happening; I sense her staring intensely at the blue cooler of herring, waving her head back and forth to get a better look.  Few natural phenomena rival the zeal of a hungry sea lion's focus.  Our research ensemble heads toward Cali and the big pool; Cali's gaze doesn't waver from the blue cooler.  It's showtime!  Stefani Skrovan (Curator of Animals) puts a funny blue headband on Cali: it's a neoprene strap that I custom-made to hold the datalogger – a waterproof recording instrument that collects 3D acceleration data at 333Hz – snugly on the top of Cali's head.  Cali stations in the water wearing the accelerometer, and repeatedly swims across the pool to consume herring released in front of the GoPros.  Many fish later, we're done. But why am I doing this?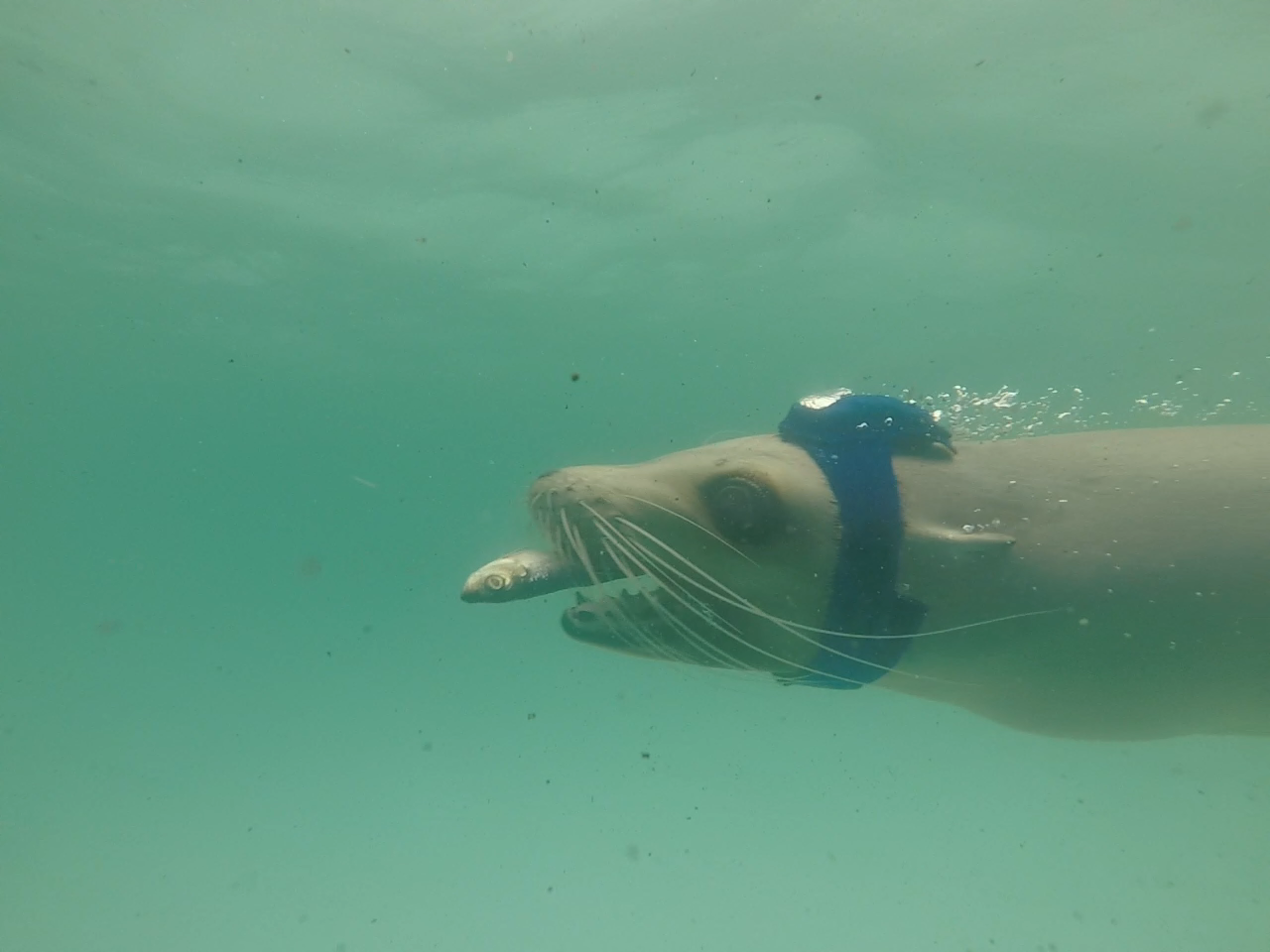 Well, these data are allowing me to show that we can reliably use accelerometers to detect when a sea lion catches prey: there are specific patterns of head accelerations that occur during prey capture but seem rare otherwise.  More details to come (stay tuned for my thesis!), but it looks like Cali and Nemo might be contributing to an exciting development for California sea lion foraging ecology!
Thanks Cali and Nemo, we're always happy to trade you food for scientific progress.