By Melissa Nehmens, Pacific Shark Research Center

On January 25th and 26th, the Monterey Fisherman's Wharf held its 4th annual Whalefest event to celebrate the migration of grey whales. Thanks to the efforts of fellow Pacific Shark Research Center (PSRC) student, Kristin Walovich, the PSRC and Friends of Moss Landing Marine Labs, hosted a booth at the event, speaking to attendees and passersby about what Moss Landing Marine Labs is all about!
Table attractions for the PSRC included a dehydrated Mako shark head and shark fin from our museum collection, and an anatomical model of a great white that allows you to see the inside of a shark. An interactive matching game, created by PSRC student Jessica Jang, was another favorite allowing people to test their shark knowledge by matching a shark to its description and name. We also showcased a story done by Central Coast News, interviewing PSRC director, Dave Ebert, about the lab's role in international shark research.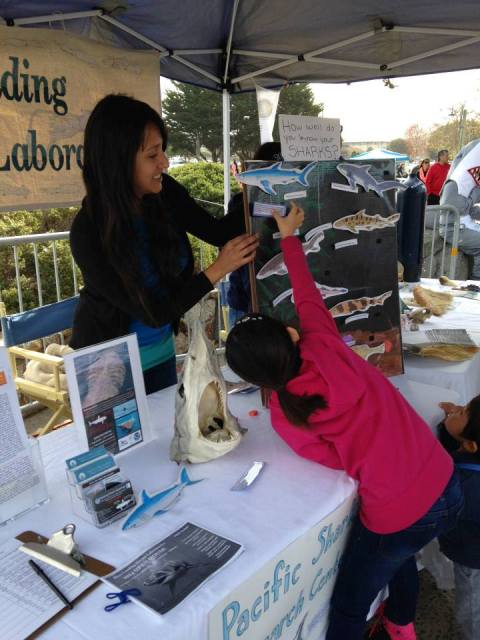 The Friends of MLML table featured Gray Whale baleen, a green sea turtle skull and a Pacific White-sided dolphin skull. In addition to distributing Moss Landings' quarterly publication, "The Wave," we also handed out flyers for our upcoming Open House, May 3rd and 4th, so people will be able to come visit the lab to see, for themselves, the research going on in their community.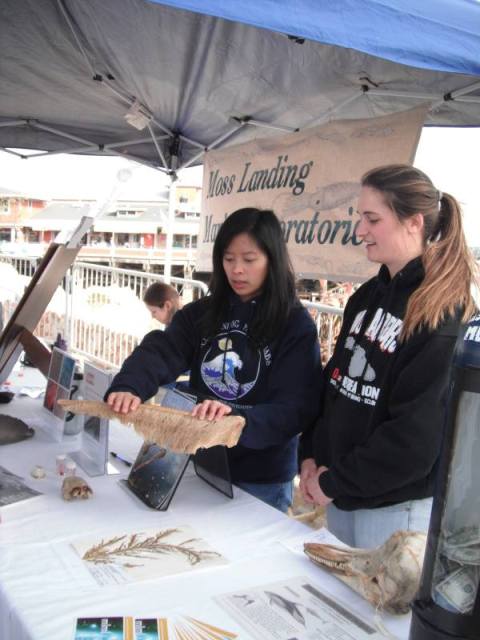 After a rewarding weekend of marine education, the joint efforts of PSRC students and member of Friends of MLML were newsworthy and reported in the Monterey Herald. Kristin Walovich, was interviewed and quoted in the Whalefest article describing why we do what we do and why we love it so much.
Though the PSRC does not have any immediate plans to host a booth at any externally run events, we will be actively doing research, and attending conferences and meetings. Our next conference will be in March in Seattle, for a IUCN red list assessment meeting to discuss the level of threat to elasmobranchs (cartilaginous fishes – sharks, skates, rays and chimaeras) on the Pacific Coastline. Hopefully this will provide us with some exciting news to share with you the next time we host a booth in November at Shark Days at the Monterey Bay Aquarium .
This was a fun and educational weekend for all and acted as good preparation for Open House. The PSRC, Friends of MLML and the rest of the lab hope to see you then!