By Scott Gabara, Phycology Lab
Circulating seawater systems are very important for marine laboratories as they need to keep organisms from the ocean alive and use the water to aid in conducting experiments.  We have recently had our Moss Landing Marine Laboratories offshore intake upgraded and we went on a dive to inspect its current status.  The large meshed cylinder sucks in water and supplies our lab with flowing seawater.  We routinely inspect and clean the surface of the grates and the structure.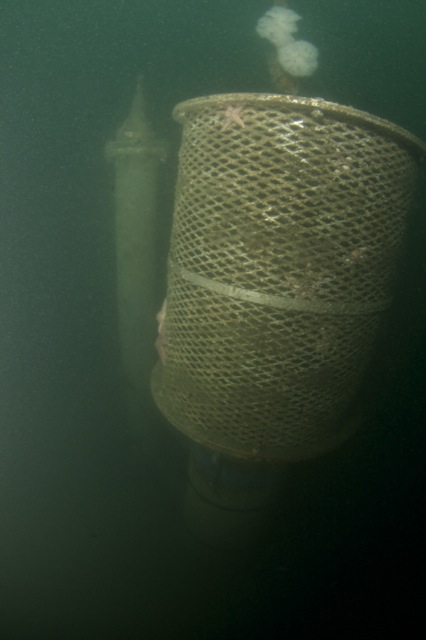 It is interesting to see what invertebrates recruit or move onto the structure.  With sand surrounding us we create a small oasis of life concentrated on the hard substrate.  One of the issues we have to deal with is that seawater contains invertebrate larvae and some species will settle on the inside the pipes and eventually constrict and clog our flow, similar to plaque buildup in an artery.  We have to force a Pigging Inspection Gauge (PIG), a tool which is usually a piece of cylindrical foam, through the inside of the pipe to clean and clear the walls.  It's great we can get routine cleanings so our seawater system continues flowing and our lab doesn't have a "heart attack"!