By Diane Wyse, Physical Oceanography Lab
Earlier this week, three graduate student volunteers and I ventured to Bay View Academy in Monterey to talk with the fourth grade class about trophic levels and intertidal zonation.  I had the unique opportunity to lead the trip again this year, you can learn about the first iteration of this trip in one of my very first posts for the Drop-In.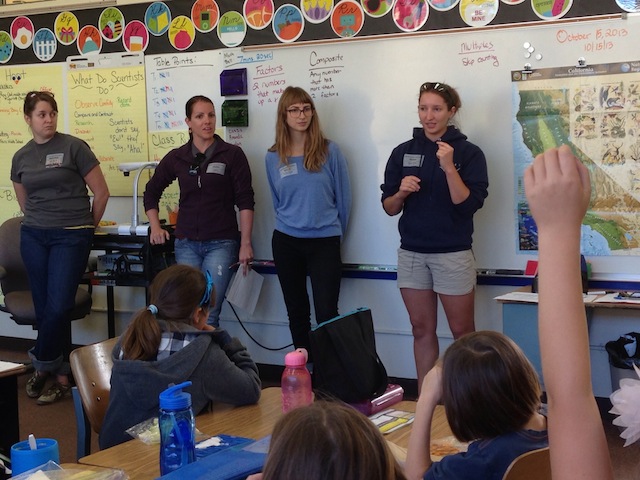 I volunteered for the trip again this year because it is the sort of educational outreach experience that to me really embodies the spirit of MLML; sharing resources and experiences from multiple labs and teaching in our beautiful marine backyard.  The student volunteers represented the Physical Oceanography Lab, the Phycology Lab (Sara Worden), the Benthic Ecology Lab (Dorota Szuta), and the Ichthyology Lab (Heather Kramp). Another reason I volunteered again? Try passing up an opportunity to geek out science on one of the prettiest beaches in the world.  Yeah, it's tough to do.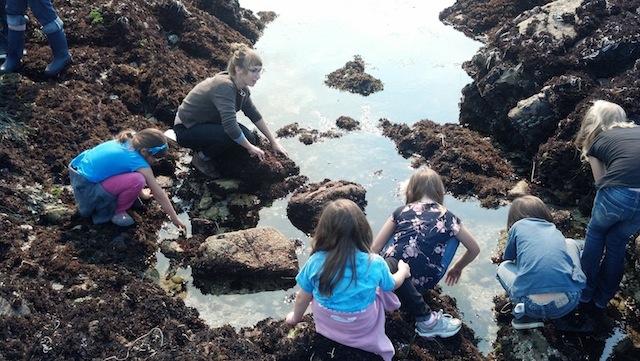 Working off an intertidal food web lesson plan developed by the Teaching Enhancement Program at MLML, the grad student volunteers introduced the fourth grade class to the organisms in tidepools at Asilomar State Beach.  We were impressed by the knowledge the students shared with us that their teacher Alicia Doolittle had introduced in previous lessons.  At the beach it was hard to tell who was more excited to explore the intertidal – the elementary students, grad students, or even the parent chaperones!
This year's trip was especially cool for me as my graduate advisor, Dr Erika McPhee-Shaw, who serves as a board member for Bay View Academy, was along for the trip and helped to photo-document the field lessons.  I'll admit it was a bit intimidating to be on the other side of things – here's a highly-regarded physical oceanographer who has taught me equations of motion, coastal dynamics, and guided me through the steps of a Master's research thesis, and here I am fielding questions about the inner workings of the ocean to a class of fourth graders while she listens in the audience.  It reinforced something I've learned time and again through graduate school, that the more simply and elegantly you can describe a complicated process, the more completely you understand it.  With the students' healthy appetite for knowledge our conversation ventured from why ocean water is blue to a comparison of ecological zonation on a beach versus a mountain.
From the closing discussion it was clear that invertebrates were the crowd favorite: the hermit crabs, the purple pisaster (ochre) seastar, even the tunicates were getting some love thanks to the students' curiosity about the round little chordates.  Will student leaders from MLML lead the trip again?  You better believe it!