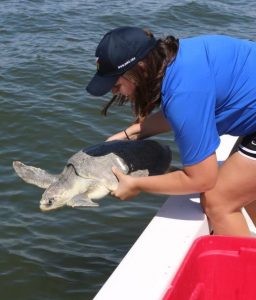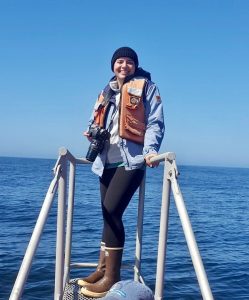 My research is centered on the physiology of marine mammals and sea turtles, particularly as it informs their conservation. I graduated from Cornell University in 2016 with a B.S. in Animal Science. I initially found my passion for marine mammals through stranding internships at the Alaska SeaLife Center and Florida Fish and Wildlife Conservation Commission. Before starting at MLML, I worked as a Stranding Technician at the Institute for Marine Mammal Studies where I responded to strandings across the Mississippi Gulf Coast, rehabilitated sea turtles and cetaceans, and participated in boat based photo-ID surveys of bottlenose dolphins. I am excited to now be back on the West Coast working as the Stranding Coordinator for the MLML Marine Mammal & Sea Turtle Stranding Network.
I joined the MLML Vertebrate Ecology Lab in the fall of 2018. My thesis research is part of a collaborative NSF-funded elephant seal translocation study. Within the context of this larger work, my project examines the physiological effects of scientific handling on northern elephant seals. By measuring simultaneous endocrine, cardiovascular, and blood chemistry stress indicators throughout the translocation procedure, I hope to clarify the complex physiological changes induced by research handling. Since physiological stress artifacts likely influence the parameters that researchers are measuring, both science and animal welfare benefit from disentangling the effects of scientific handling on marine mammals.
In addition to my research, I am passionate about science communication and currently work as the Social Media Coordinator for Moss Landing Marine Labs. I also volunteer my time as Editor for The Drop-In, MLML's student-run blog and manage our Vertebrate Ecology Lab social media pages (check us out on Twitter and Facebook).