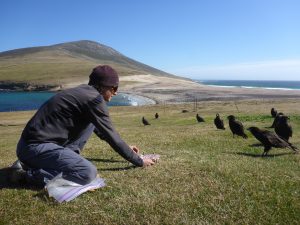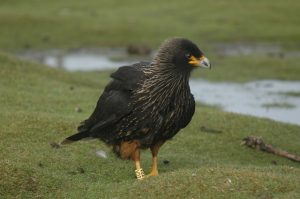 I've taken a diverse approach to my passion for biology and being out in the field. I currently focus on studying the movement and feeding ecology of Striated Caracaras in the Falkland Islands. An amazing bird! They're social, gregarious, run as much as they fly, and fill a similar ecological niche as the North American raven. Birds of prey are sentinel species of the earth's environment, so I have a deep passion for contributing scientific knowledge that can guide conservation and management programs.
For my Master's thesis, I collaborated with Hawk Mountain Sanctuary to develop energy budget estimates for the striated caracara using 3D acceleration loggers. Knowing caracaras' energy needs is essential to understand their ecological role and to better assess how human-dominated landscapes might affect their survival.
In addition to my research, I also work on sailing vessels as well as in small boat ops, assisting coastal California research efforts as experienced field crew, including operating vessels, performing marine bird and mammal surveys, and photographic ID work for long-term baleen whale studies.
The biological world stuns me, and I want to share that with others. I do that through writing about local research and science-based ecological restoration. I've published in Bay Nature, for NOAA Fisheries', and in Salish Sea Currents. I obtained my BA in American Studies from Stanford University and built my foundation in biology through additional coursework at the University of Washington's Friday Harbor Laboratories and the College of Marin.
Katie defended her thesis titled "Seasonal time-energy allocation of an island-restricted Falconid, the Striated Caracara, using a low-cost, open-source inertial movement GPS logger" in 2019. You can find her thesis results in this article published in the journal Animal Biotelemetry.