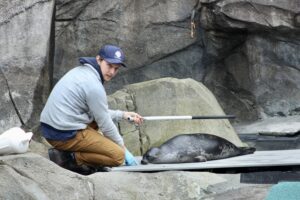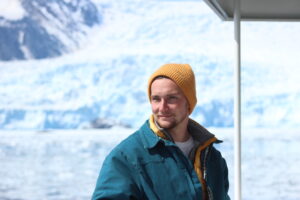 Upon graduating from the University of California Santa Cruz with a B.S. in Marine Biology, I got involved with the Pinniped Cognition and Sensory System's Lab where I had my first experience working with marine mammals. Here I started as an intern contributing to the daily care and training of the resident seal and sea lion species. Simultaneously, I was able to assist in several of the research projects being collected here between the animals and researchers. These opportunities ranged from hearing tests with a California Sea Lions to physiological work with two arctic seals and even developing some human trials along the way.
This volunteership, and the skills I learned from it, led me to the Alaska SeaLife Center where I continued my behavior and physiology work with arctic seals as a Research and Animal Care Technician. This position allowed me to take on a larger role in the physiology project I had been assisting on, learning several new physiological techniques while continuing to work with these understudied species.
Ultimately, these experiences led me to the research being conducted at the Vertebrate Ecology Lab here in Moss Landing. Since joining, I have enjoyed working for the Marine Mammal Stranding Network and hope to continue working on the physiology of marine mammals.