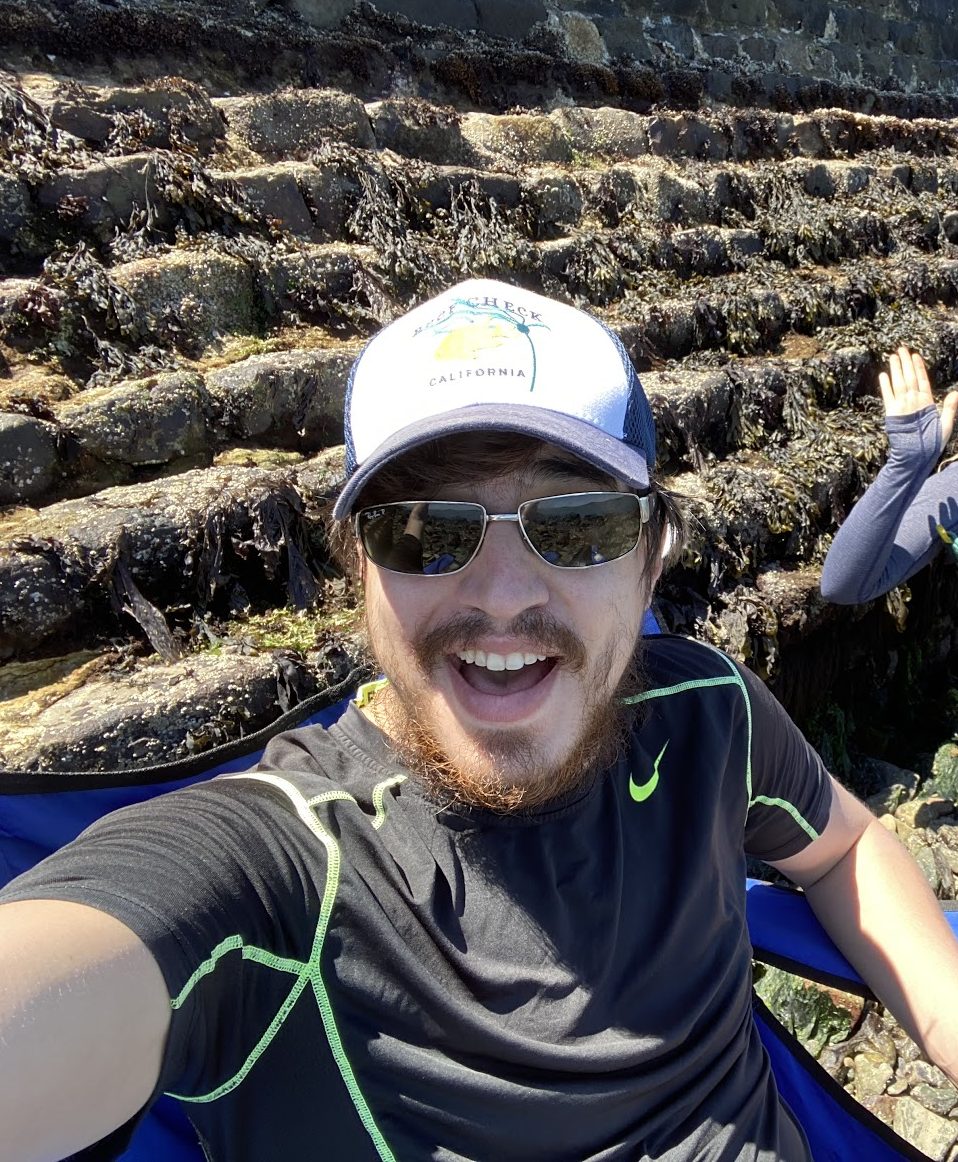 Acy's been able to live in Moss Landing for the entirety of his degree, first on-site in student housing and later in a guest room nearby. One of his favorite memories is one many MLML students have been lucky to experience in their own way:
"One of my favorite memories was going up to the lab a few minutes before sunset. No one else was there and I had some warm tea and a nice jacket. I sat by myself on the observation deck and listening to my favorite music as I watched the sun sink behind the dunes while the curtain of night slowly descended leaving a trail of stars. It was a moment of peace in a hectic world and I remember feeling so grateful for the opportunity to enjoy the lab and Moss Landing as a whole."
Finally, we had to ask him the all important question: What do you love about being an MLML graduate student? He had a lot of great things to say!
"What I love most about being an MLML student is the amount of opportunity there is here to do things! If I want to go diving, I can guarantee you I'll find someone who needs a diver ASAP. If I want to go tidepooling, I can rally a few students within a few hours. If I'm interested in an aspect of marine science I have explored before, I can go to any professor and they'll take the time to talk with me and teach me something cool. The absolute best thing is the library. I describe the entire school to people as Marine Science Hogwarts. We get seperated into our 'houses' and share classes, and we have a huge magical library full of amazing things and an awe-inspiring view! Check out the rare book section, it's wild!"
Moving on from MLML to his extracurricular activities, we asked Acy about his favorite things to do in the area and his ideal weekend:
"Both my jobs and obviously my degree focus on marine science, so a vast majority of my life is the ocean! I don't really have time for much else, but I really love exploring the Redwoods. They remind me of home and help me disconnect from the rest of the world for a few hours. My ideal weekend is pretty simple compared to others. I want a few nice rainy days where I can sit by the window and just watch it come down while I enjoy some coffee or tea and listen to some music. Maybe read a book or play a few games. I love the rain!"
Luckily for him, Acy's ideal weekend seems to match perfectly with our January weather! 
Acy Wood is a graduate student in the Phycology lab at MLML, studying under the advisement of Dr. Mike Graham.
"He is one of the most passionate students I have met at Moss Landing - he is genuinely interested in all aspects of marine science and loves spreading his knowledge on his areas of expertise! Acy is a prime example of a motivated and passionate student here at Moss Landing!" -Victoria Dickey
We asked Acy to first briefly describe his research for us:
"Although my lab mostly researches kelp, I research rockweed! These cute little buddies are important foundation species in the intertidal zone. I'm currently focusing on populations within San Francisco Bay and observing differences in early life stages from populations along a salinity gradient."
Later, when asked about an influential event or person that helped direct his career to marine biology, Acy responded:
"I was born in Wisconsin, but was raised in a small suburb near Seattle. The ocean was never far away growing up and I was fortunate enough to live in a place with plenty of museums. Woodland Park Zoo, The Pacific Science Center, the Museum of Flight, and more were all staples of my childhood. One institution really stood out though and that would be the Seattle Aquarium. Located in the heart of Seattle, I convinced my family to go whenever I could. Seattle Aquarium is known for the interactive tidepools that volunteers roam about interpreting natural science with guests from all over the world. Although the industry standard now, the Seattle Aquarium was pioneering in making tidepools that mimicked the natural environment and I was hooked. If you ask anyone close to me from my childhood, I always was spouting off science facts and saying that I wanted to be a marine biologist."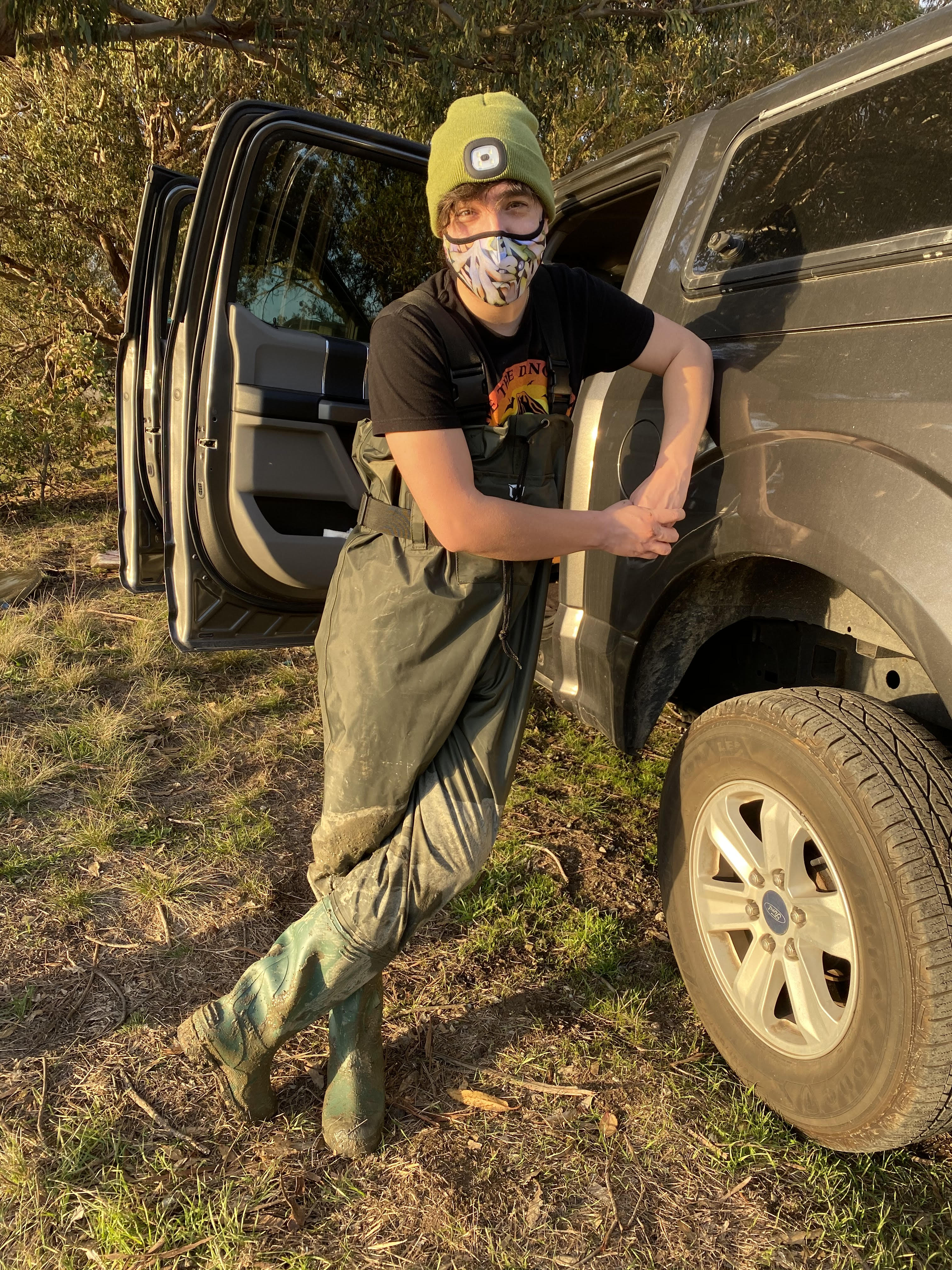 When not working on his research, exploring the Redwoods, and/or sipping one of his many varieties of tea, Acy is also very active in the community. He's had multiple job and internship experiences which we asked him to tell us a little more about.
"My job experiences have been entirely due to my connections at Moss. I got to live out a childhood dream when I worked as a marine science instructor at the Seattle Aquarium and I left a little of myself there to come do my degree. Fortunately, the Monterey Bay National Marine Sanctuary Exploration Center just HAPPENED to be hiring for a similar position when I came down and a student reached out to me to apply. The Fellowship I have with the Smithsonian Environmental Research Center was presented to me because one of the professors here knew what my research interests were and recommended reaching out to me when an associate asked her for candidates. I just happened to be working with rockweeds and that's exactly what they needed. If it hadn't been for Moss, I wouldn't have even known about this life-changing position I was lucky enough to get. I tell people interested in Moss that they WILL find something amazing to do if they make it into the program!"
Acy is one of the many dedicated, hard-working students at MLML who's passionate about his work both in and out of the lab. We hope you enjoyed our insight into his experiences at Moss Landing Marine Laboratories and check back next month for another student spotlight!