By Jackie Lindsey, Vertebrate Ecology Lab
First year students at Moss Landing Marine Labs are encouraged to seize every opportunity to get involved in research.  That is just what Kenji Soto is doing (December 7th-23rd) as a volunteer on the Research Vessel Atlantis.  He is helping Sam Hulme (MLML) and Geoff Wheat (MBARI adjunct researcher) with a project titled: Collaborative Research: Discovery, sampling, and quantification of flows from cool yet massive ridge-flank hydrothermal springs on Dorado Outcrop, eastern Pacific Ocean.  And the really cool part? Kenji is blogging as he goes!  Follow (HERE!) his progress, his discoveries, his photos and videos, and the delicious food he is enjoying while a member of the research team on RV Atlantis.
Kenji reports: " The [project] purpose is to map the Dorado Outcrop at the 1 meter scale using an AUV, look for warm (5-30 degrees C) hydrothermal springs, test the flow rate at the springs, analyze water extracted from the sediment for microbial communities, and analyze the pore water coming directly from the springs for chemical anomalies...Another part of the project is to visit the CORK (Circulation Obviation Retrofit Kit), which are pressure data loggers that have been placed in silos under the seafloor.  These data loggers store information about seismic activity.  I believe that the hope is that these CORKs will be a "first-line-of-defense" warning system for earthquakes.  One of the main reasons for the trip is that the PI's believe that the hydrothermal vent springs here could have a significant effect on the ocean's heat budget.  Even though they are a low temperature spring, they believe that the springs are like a "fire-hose" and could flow at a rate on the order of 1000s of liters/second."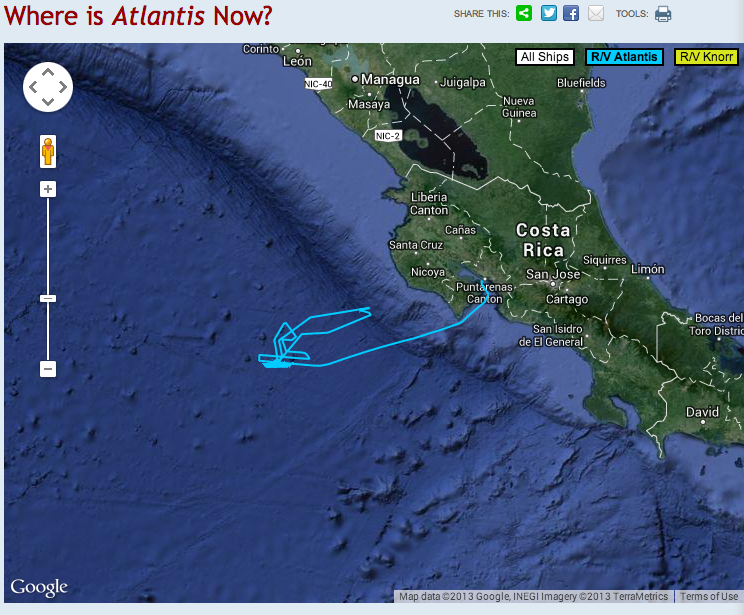 His favorite parts of the cruise so far? "My favorite part is learning to build all of the sampling gear, standing watch in the ROV van because I get to see what goes into piloting an ROV and seeing the ocean at 3000 meters...I also enjoy seeing the full process of how the samples we are taking are processed.  I've gotten to [do] some of it, up to the chemical analysis stuff...[I'm] not doing the collecting, which is done by the ROV.  But I get to do the middle part of the mud and pore water collecting process. "
Extra cool stuff? "There are 2 teachers on-board who are doing a blog too.  Since their main duties are updating the blog, they are doing a great job...people should definitely check it out: http://www.darkenergybiosphere.org/dorado/"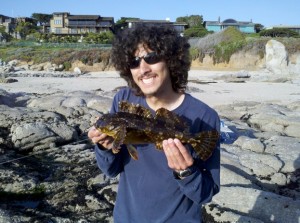 Things to remember for your next cruise? "You should never bring homework on a cruise.  You want as much free time as possible so you can complete your ship duties as well as having some time carved out for just relaxing and having fun."
Happy travels, Kenji!  We hope to hear more from you when you get back!