By: Scott Miller, Ichthyology Lab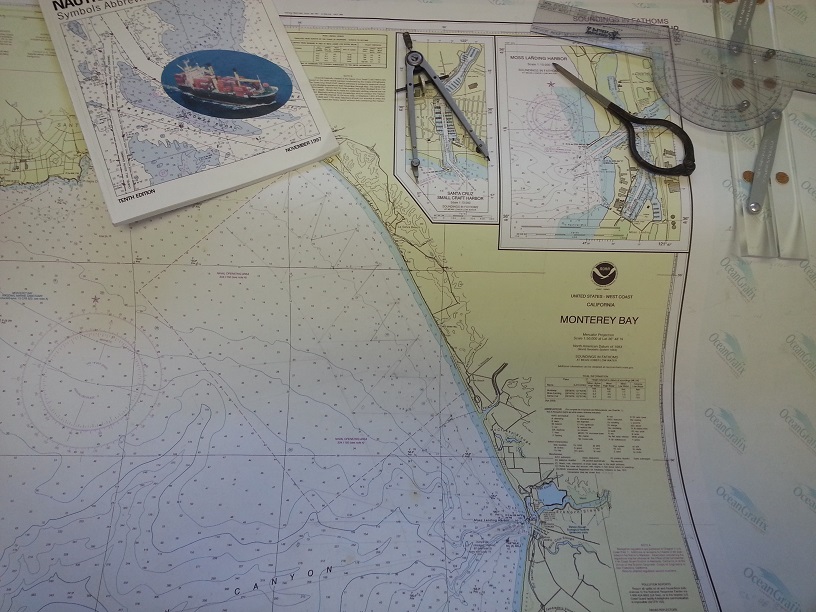 One of the perks of being an MLML student is that we get to utilize the lab's fantastic diving and boating resources - provided we get proper training first.  While "training" sounds like a drag, it can actually be quite a lot of fun!  For example, the lab recently offered a course to get checked out on the small boats.  Getting checked out on the small boats allows us to take the boats out for thesis-related work and other lab-approved reasons, so a number of students met up at the harbor to get certified.  After confirming that we had previously taken our online boating safety course, we began learning about nautical navigation and the basics of an outboard motor.
After learning all about the boats and procedures in the morning, after lunch it was time to take to the sea.  We separated into two smaller groups and went out on our Boston whalers.  The helpful staff at Marine Ops guided us as we practiced maneuvering in the bay.  Although I have boating experience on lakes, driving in-and-out of ocean swells was quite different and I had a blast learning the techniques.  After braving the ocean, we headed back into the harbor to practice docking.  While there wasn't too much boat traffic inside the harbor, we still had to drive carefully to avoid the otters and seals that are abundant in the area.  We each took turns docking into different spots and under different conditions, then we took the boats back to the dock and cleaned everything up.  Spending a beautiful afternoon on the water got at least one student excited about having the opportunity to use the boats more frequently to help with his future research!