MLML / CSU Marine Science Diving
AAUS (American Academy of Underwater Sciences) Summer Intensive Scientific Diving Course -- Cancelled 2023
Summer 2023 Course Cancelled
The summer 2023 AAUS course is not being offered at MLML this summer. However, our fall MS105 Marine Science Diving course is being offered through MLML/SJSU and available via other northern and central CA CSU crosslistings (SFSU, CSUMB, CSUEB, SacState, CSUF) -- see MLML history All information on this page was accurate for previous years, and may be accurate for future summer courses.
Still interested in becoming an AAUS certified diver through MLML? Visit our MS 105 fall scientific diving course page
COURSE OBJECTIVES
Train research divers to AAUS standards to attain status as a scientific diver. Authorization allows for research diving reciprocity among AAUS institutions

***need home institution for affiliation

Train students in advanced safe diving techniques

Demonstrate advanced understanding of diving physics, physiology, equipment troubleshooting, navigation, dive planning, emergency and rescue skills

Become familiar with research diving skills, survey techniques and common marine organisms.  Research techniques include REEF CHECK surveys

Increase competency as coldwater divers under varied conditions 

Become familiar with small boat diving safety and techniques

Become certified as NAUI Master Diver and AAUS diver
***The summer course is intensive. Be in swimming and diving shape; come prepared.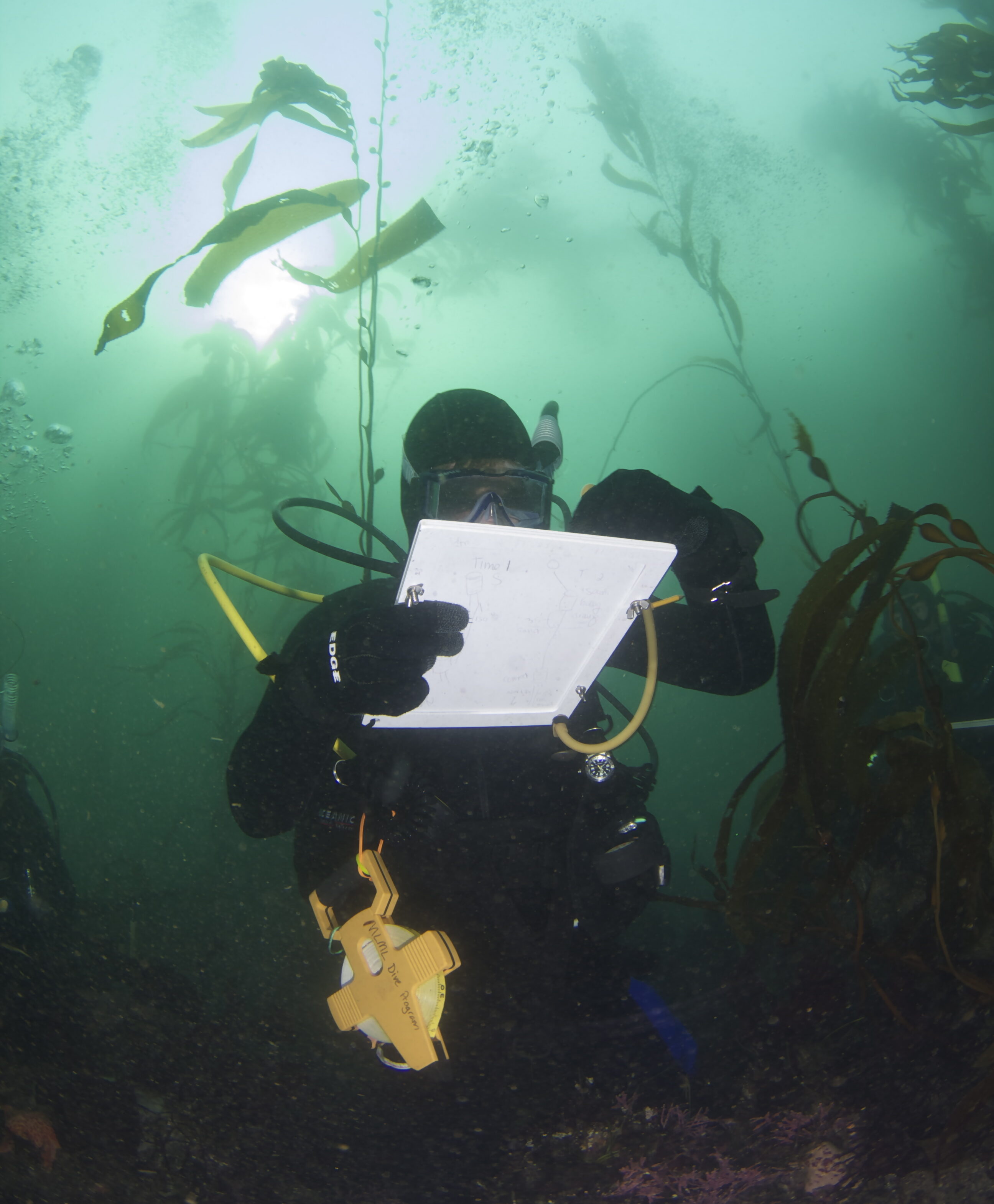 PREREQUISITES
Forms at https://mlml.sjsu.edu/diving/certification
Basic SCUBA and Rescue certification – verify with a certification card

Equivalent of Advanced Certification
12 logged cold-water scuba dives minimum! (with 4 within the last 6 months)

Logs must be submitted. All dates, locations, buddies, depths, dive profiles info required (dive log form available at https://mlml.sjsu.edu/diving/certification/ under REQUIRED DOCUMENTS
Highly recommended to have 20+ dives logged

Current application & dive medical on CSU/AAUS medical form with appropriate lab work

Note: if you had COVID, further testing may be required – see 2022 medical.

Personal Dive Gear with current annual inspection verification (see list below).

MUST be comfortable with personal SCUBA gear set-up you will use in the course with at least 2 cold water dives in that gear.

Pass the AAUS Swim Test (must submit verification of meeting swim criteria as part of application materials and MUST PASS FIRST DAY - practice prior to the class).
Current CPR, 1st Aid, Emergency O2 training (provide cards or proof of current training)
Complete AAUS e-learning. (approximate 10-12 hrs to complete, plan ahead)

link to e-learning will be sent out as part of course after payment is received.


Complete NAUI Master Diver elearning

link to e-learning will be sent out as part of course after payment is received.

Commitment to a rugged, challenging and rewarding diving course and arrive with a high level of fitness to dive.
COURSE SIGN UP
If you would like to enroll for this course, please complete the following Google form, indicating your interest and potential class enrollment. Please note that this form will ask you for your most recent swim time for a 400yd swim (with no equipment) and any dive training records (where, when, & training agency). Please have this information ready at hand when filling out the application.
Admission is based on instructor consent. Please note that priority is given to MLML and CSU graduate students, then undergraduate students, then outside applicants, but we encourage all to apply. This course is offered through SJSU Extension. After your application is assessed, sign-up details will be provided to those who meet the course requirements.
All other course paperwork can be found on the page Becoming an AAUS Diver, under Dive Training. The first 8 items (as ONE PDF document) must be emailed to MLML dive program admin (mlml-diving-admin@sjsu.edu) not later than July 15th. KEEP A PERSONAL COPY OF ALL YOUR PAPERWORK.
---
Cost: ~$650  (Course fee varies for non-CSU students)
Costs cover: AAUS certification, REEF CHECK certification, NAUI Master Diver Certification, Training, cylinders + fills, dive vehicle transport, boats, engines, field compressors, sampling & emergency equipment (O2/AED), field equipment, access, camping fees. Food for field trip to Big Creek UC Reserve not included.
Not Included/Costs approximated: 
- CPR, 1st Aid, O2 admin, certification
- NAUI Master Diver Card ($58)
- NAUI Master Diver text (digital copy available free)
- Medical Exam  (~100-$200+)        
- DAN Membership ($40) + Insurance ($42 to  $117.75, depending on coverage)
- Reef Check manual and flash cards (PDF available online)
- 2 sided slates for sale at MLML ($25.00)
- Food and housing for first week; food for second week (camping)
DIVE EQUIPMENT REQUIRED AT START OF COURSE
You must provide: 
Ditchable weight system (ex. belt, pouches, harness) for skin and SCUBA activities

Buoyancy Compensator, with whistle, appropriate clips for avoiding dangling gear. BCD must have proof of service.
Regulator - must have a primary 2nd stage, and an octopus, LP inflator hose and gauges including an SPG. If BCD has an integrated air source, divers must also carry an octopus for 'COVID-safer' air sharing. All divers must have an analog SPG.
Mask & Snorkel
Wetsuit (7mm wetsuit minimum for ocean, surf suit ok for pool) A dry suit is ok if you have verification of training and 4 recent dives within the last month, using the dry suit you intend to use in class. You will be required to have a backup wetsuit on site. This is not a dry suit training course.
Gloves, Booties, Fins, & Hood
Timing device, depth gauge and dive tables OR dive computer + manual
Compass – and knowledge of how to use it
Cutting Tool (Safety Shears or Dive knife with strap)
Equipment Bag (that fits all of your gear)
Smaller mesh goodie bag (that fits mask, fin, snorkel) for boat diving
Personal save-a-dive kit
Dive Light (minimum one, preferable to have 2)
Dive slate for sampling (2 sided slates + UW paper for sale at MLML $25.00 or to borrow)
Gear Storage container – changing tarp
Camping Gear for Big Creek Trip – sleeping bag, pad, tent, flashlight/head lamp, sun hat, warm weather gear, sunscreen, water bottle, plate, knife, fork, mug, underwater harmonica, rain coat