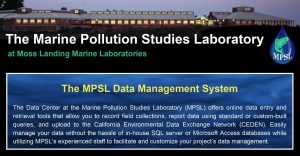 Fact sheet providing a two page summary of the MPSL-MLML Data Management System and available services and tools
The Moss Landing Data Center (MPSL-MLML Data Center) is one of four regional data centers that support the California Environmental Data Exchange Network (CEDEN).  The MPSL-MLML Data Center is managed through the Marine Pollution Studies Laboratory (MPSL) at Moss Landing Marine Laboratories (MLML).  Our mission is to collaborate with data partners to assist in creating and compiling comparable data sets and to develop applications with the goal of assisting with data analysis and improving environmental quality.  The MPSL-MLML Data Center works with data generators throughout California, with the majority from the Central Coast and Northern California, to help standardize and store their data for review and transfer to CEDEN.
Once data is produced, it must be reported, centralized, and shared with its users. Data management provides the tools and infrastructure needed to manage environmental data in local or enterprise level databases.  The data management services at MPSL-MLML include:
The design of customized environmental data management systems and supporting technical expertise (Microsoft Excel, Access, and SQL)
Management of observational, analytical, toxicological, and biological sample datasets including data loading and storage
Data verification and validation against specified guidelines
Customization and training for data sheets and electronic data deliverables tailored to specific sampling protocols
The development and implementation of systems for cataloging project completeness
Data assessments, toxicity testing result reporting, and biological metrics including the California Stream Condition Index (CSCI) based on EPA and SWAMP guidelines
Creation of the tools and infrastructure needed to manage environmental data in local or enterprise-level databases including data checkers and other application development
Data management support (data loading, querying, validation) within the Earthsoft EQuIS system
The main site pages include a "How to Submit Data" page, informing new users about the MPSL-MLML Data Center data submission process and how that data is transferred to CEDEN.  Direct links for current users include Data Entry Tools (Field Data Sheets, Templates & Documentation, other Tools), Data Submittal (Online Data Checkers), Data Analysis Tools (Online Data Management System & Advanced Query Tool) and Webinar Trainings.
If you need assistance please contact the MPSL-MLML Help Desk.