Ryan T. Fields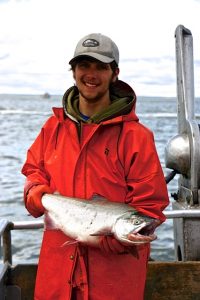 Ryan grew up  on Kodiak Island, Alaska and spent his summers participating in the commercial salmon fishery with his family. Both throughout his undergraduate career and after graduation, Ryan continued to work as a full-time crewman fishing for salmon in Bristol Bay and the Gulf of Alaska.
Ryan completed his undergraduate studies at Westmont College in 2010 with a B.S. in Chemistry and a minor in Biology. After graduating, Ryan returned to Kodiak and was hired as a Biological Technician II for the Alaska Fisheries Science Center (NMFS). Here, he was responsible for maintaining water quality for ongoing ocean acidification experiments and assisting with studies involving juvenile king and tanner crab.
Ryan started his studies at MLML in 2012, and served as science crew and volunteer coordinator for the California Collaborative Fisheries Research Program (CCFRP). Ryan helped to lead fieldwork for the Rockfish Conservation Area Project between 2012-2014-- a short-term project to evaluate the performance of Rockfish Conservation Areas (RCAs) after 10 years of implementation. The results of that study were published in CalCOFI.
Ryan defended his thesis in the spring of 2016 and worked as a technician for the Fisheries and Conservation Biology Lab from 2016-2020. He participated in CCFRP and the development of new video lander tools to improve fisheries management of Pacific rocky reefs. He has since accepted a job with the Oregon Department of Fish and Wildlife's Marine Reserve Research Team in Newport Oregon. When not at work, Ryan enjoys reading, hiking, backpacking, and making fish-themed artwork.