Hannah McGrath (She/Her)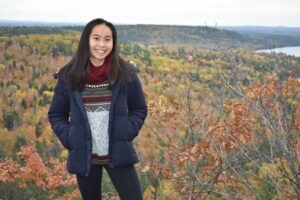 Hannah received her B.A in Environmental Science with a minor in Managerial Economics from Colby College (Maine) in 2022. During undergrad, she had the opportunity to study off campus for a semester at Bigelow Laboratory for Ocean Sciences where she worked closely with Dr. Peter Countway investigating the abundance and duration of the harmful dinoflagellate Karenia mikimotoi in BoothBay Harbor, ME using molecular techniques. The following summer, Hannah was an REU intern at Mote Marine Laboratory at the Red Tide Institute (RTI) where she worked with Dr. Cynthia Heil investigating the co-occurrence of the two Karenia species, K. brevis and K. mikimotoi, which are responsible for red tides that are detrimental to human and ecological health as well as Florida's seafood based economy. For Hannah's honors thesis she continued to collaborate with Dr. Pete Countway and Dr. Cindy Heil to investigate the co-occurrence of K. brevis and K. mikimotoi as sea surface temperatures rapidly increase.  
Hannah is co-advised by Dr. Sarah Smith and Dr. Holly Bowers. While at MLML, she works on two grants. The first grant is the CenCOOS project that investigates water quality and phytoplankton assemblages present in Monterey Bay, CA. The second grant Hannah is working on, alongside Dr. Holly Bowers, is the SeaGrant Project that focuses on developing qPCR assays to make the rapid detection of harmful algae bloom species via quantitative polymerase chain reaction (qPCR) more accessible and readily available in order to improve our understanding of HAB events.
In Hannah's free time, she enjoys swimming, hiking, tidepooling, painting, and exploring.