Stephen Pang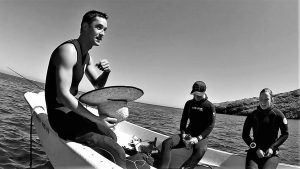 Stephen graduated with a B.S. in Biological Oceanography from the University of Washington in 2012. His senior thesis examined the effect that a La Nina event has on the primary productivity of phytoplankton in the equatorial Pacific.
After graduating at the University of Washington, he worked at a number of different fisheries-related positions. Immediately following graduation, he moved out to Ashahka, ID where he worked as a field technician at Clearwater Fish Hatchery and Dworshak National Fish Hatchery. He then accepted a position at Tacoma Power (a public utilities company in WA) where he worked extensively on the Cowlitz River. His work examined the effect that hydropower dams had on the migratory behavior of coho and Chinook salmon.
He joined Moss Landing Marine Laboratories in 2014. His thesis project is looking at how size-selective fishing affects the reproductive output of sex-changing fish. Sepcifically, he is interested in fish that change from female to male as they get older (known as protogynous hermaphrodites). Since many fisheries target the largest individuals in a population, they will tend to disproportionately remove males and skew the gender ratio in favor of females in these types of sex-changing fish. The limited number of males could cause a drop in reproductive output in heavily fished populations of protogynous hermaphrodites. He recently returned from Santa Catalina Island where he was working on this project at the Wrigley Marine Science Center.