Kristin Saksa
I am currently working at the Southwest Fisheries Science Center (SWFSC) Ecology Division (NOAA) in Santa Cruz on climate change studies focused on rockfish reproduction.  My thesis research is specifically focused on how changing ocean chemistry (pH and dissolved oxygen) affect larval rockfish survival, deformity and metabolism.  This means I spend most of the Spring waiting for rockfish to give birth, always on call, a rockfish midwife if you will.  Throughout the rest of the year I have been assisting with another project on the effect of climate change on juvenile rockfish. I help collect juvenile rockfish at Stillwater Cove and run behavioral and physiological trials at the NOAA lab in Santa Cruz. I am in my second year at Moss Landing Marine labs and continuing to develop my knowledge of local marine biodiversity, fisheries biology, and climate science. I'm specifically interested in developing my knowledge of the effect of global climate change on marine species function and how this alteration effects the ecosystem at large.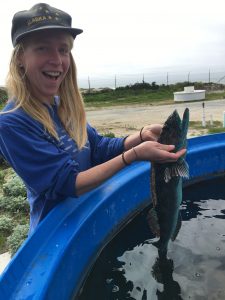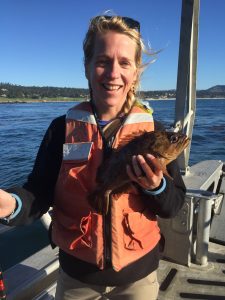 I majored in Environmental Studies and Philosophy at Santa Clara University (undergraduate) and post graduation returned to Bainbridge Island, WA to get involved with the aquaculture world on the Olympic Peninsula. I began working for Taylor Shellfish as part of the research department and became very engaged with the negative effect ocean acidification is having on local shellfish.  I began working for the UW School of Aquatic and Fisheries Science to look at multigenerational effect of ocean acidification on Pacific oysters. More recently I have been focusing on a Purple Hinge Rock Scallop growth study for commercial development of the scallop industry. I spent my off seasons getting my SCUBA DiveMaster, working as a kayak guide, and interning in Auckland, NZ for a common dolphin population dynamics study. 
I currently live in Santa Cruz with my pup Aura. On the rare occasion I have time off, I like to get out in the ocean and surf or climb or help my buds out with their research!