Devona Yates
Devona graduated from the University of California Santa Cruz (UCSC) in 2008 with a B.S. in Marine Biology. Before coming to Moss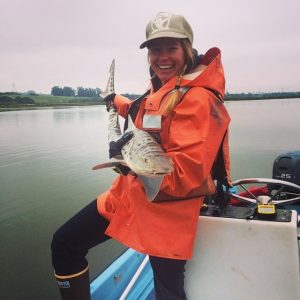 Landing Marine Laboratories in 2012, Devona spent four years as a scientific diver for the Partnership for Interdisciplinary Studies of Coastal Oceans (PISCO) at University of California Santa Cruz, a long-term ecosystem research and monitoring program which conducts research in nearshore oceanography, ecological interactions, population replenishment (recruitment), population genetics, and the diversity and structure of ecological communities in central-northern California kelp forests. As an undergraduate, Devona was an assistant research diver under the supervision of PhD candidate Jan Freiwald and Dr. Mark H. Carr (UCSC), where she used acoustic telemetry and SCUBA surveys to study
the movement and homerange size of temperate reef fishes, and aided in the development of microsatellite markers for a parentage analysis on adult kelp greenling (Hexagrammos decagrammus)1.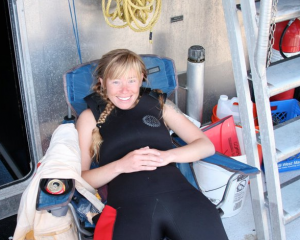 Devona's extensive amount of time spent underwater observing kelp forest organisms and their natural habitats with PISCO (over 600 coldwater dives), combined with her interest in population and community ecology led her focus of her Masters thesis on predator- prey interactions and the cascading effects of fish predation on lower trophic level organisms. This research will use tethering experiments and underwater habitat surveys in order to quantify mortality rates of invertebrate prey as a function of MPA protection status and habitat type along the Monterey Peninsula.
1Freiwald, J., N. Stewart, D. Yates, and G. Bernardi. 2009. Isolation and characterization of nine polymorphic microsatellite loci of the kelp greenling, Hexagrammos decagrammus, a temperate reef fish. Molecular Ecology Resources 9(2):563-565.