Sophie Bernstein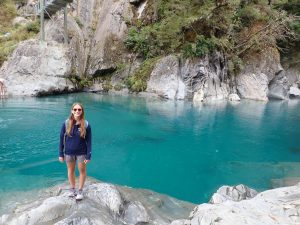 Sophie graduated from Bucknell University in 2016 with a BA in Environmental Studies. Most of her work experience as an undergrad revolved around outdoor education. She spent her summers working as a scuba instructor, guiding 3-week long intensive sailing trips for middle and high school students. After completing a field studies program in Australia during her semester abroad, Sophie started transitioning more towards science.
She moved to the Bahamas for 1.5 years, where she worked as a marine ecology teacher and outdoor educator at the Island School, and also volunteered at Bimini Biological Field station conducting fieldwork on sharks and rays. Sophie additionally spent 6-months traveling and diving around Indonesia, while also conducting fieldwork for the Marine Megafauna Foundation.
Sophie joined the Ichthyology Lab in Fall 2018. Her current research interests are in movement and foraging ecology of marine fishes and the use of stable isotopes. For her thesis, Sophie is focusing on the trophic transfer of domoic acid, a harmful neurotoxin produced in certain types of algal blooms, through the Monterey Bay food web (from zooplankton to CA Sea Lions). When not at the lab, you can find me trail running or surfing!