Katie Neylan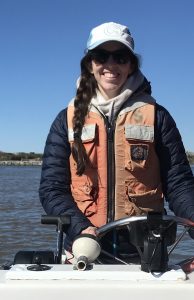 Katie graduated from CSU Monterey Bay in 2016 with a B.S. in Marine Science. As an undergraduate, Katie worked for a few Ichthyology lab graduate students. Her undergrad research included two main projects: investigating the condition of surgeonfish along a nutrient gradient in the southern line islands and examining the effects of size-selective mortality on sex change in a protogenous hermaphrodite species of goby, rhinogobiops nicholsii.
Following her graduation, Katie worked for California Department of Fish and Wildlife as a Scientific Aid collecting data for the California Recreational Fisheries Survey in Santa Cruz, CA. Her interests in fisheries and resource management further developed, and she decided to pursue research in finish aquaculture.
Katie joined the Ichthyology lab in Fall 2018. For her thesis research, Katie will be investigating microalgae as an alternative oil source for sablefish aquaculture feed.