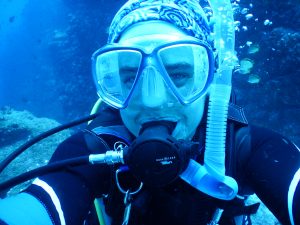 Caroline's research uses fixed-site photomosaics to extract coral vital rates that are used to project population level trends across sites around the Main Hawaiian Islands. She is co-advised by Dr. Cheryl Logan at CSUMB and is a NOAA Center for Coastal and Marine Ecosystems Graduate Research Scholar. Before moving to California, Caroline worked on one of the Chesapeake Bay rivers in Maryland and was a Peace Corps Volunteer in Nicaragua. She hails from North Carolina and is still searching for good Southern food in Central California.
In her free time, she likes to eat ice cream, swim, read, hike, ride bikes, and participate in any and all water activities.
Caroline successfully defended her thesis work in August 2022 and is currently a 2022 John A. Knauss Marine Policy Fellow in Washington, DC.