LIBRARY CLOSURE NOTE: We are now able to process physical book loans through CSU+. Library staff will coordinate pick-ups/deliveries via email.
CSU+ BOOK LOANS
Need a book that we don't have? You can borrow materials from 23 other CSU libraries via CSU+ loan. CSU+ is the resource-sharing system that allows our patrons to access the 29 million books held by the libraries of the California State University system and have them delivered to MLML within 2-5 days.
Instructions for placing a CSU+ loan request
All CSU+ loan requests are placed through OneSearch, our online library catalog. Please note that CSU+ is for books only (article requests can be placed via ILL). If you have any issues placing a CSU+ loan request, please contact us at mlml-library@sjsu.edu for assistance.
Step 1: Navigate to OneSearch. OneSearch is also linked on the library website homepage (click on the spyglass icon).

Step 2: Click on the "Sign In" button located in the upper right hand corner.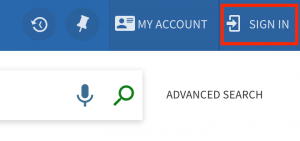 Step 3: From the log in screen, enter your standard MLML or MBARI credentials. Please note that your username will not include the @mlml.calstate.edu, @sjsu.edu, or @mbari.org suffix.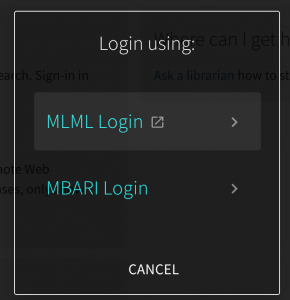 Step 4: Now that you are logged in, type the book title into the search bar.

Step 5: If your search is too general and produces too many results, you can use the "Tweak my results" column on the left to narrow your results.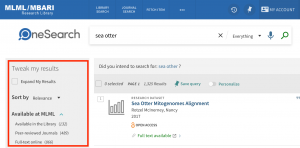 Step 6: Once you have found the book you need, click on the title to open the catalog page for that book.

Step 7: If the book is available in the MLML/MBARI Research Library, under the "Request Options" heading you will be able to see the holding information which will allow you to locate the book in our collections. If the book is not available in our library, there will be a blue "Request from CSU Libraries: CSU+" button that you can click.

Step 8: Click on "Request from CSU Libraries: CSU+" to open a new box. If there is a specific volume you need then enter it now. Click "Request" to submit.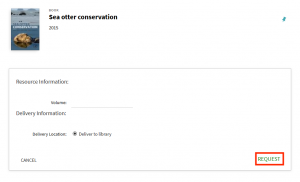 Step 9: The CSU library owns the book will now receive your request. They will ship the book to our library within 2-5 days.
Step 10: You will receive an email from the library when the book is available for pickup at the MLML/MBARI Research Library. Please stop by the library student office during business hours (Mon-Fri 9:00am-5:00pm) to pick up your book. If you work at MBARI and would like the book delivered to the MBARI front desk, please email us at mlml-library@sjsu.edu to coordinate that drop off.